Southwest Airlines has ordered another 34 Boeing 737 Max 7s, bringing its total Max 7 orders to 234 jets in a move the company says reflects an improving financial outlook.
The 34 orders are conversions of previously held purchase options and build on Southwest's order in March for 100 737 Max 7s, the Dallas-based airline says in an 8 June securities filing.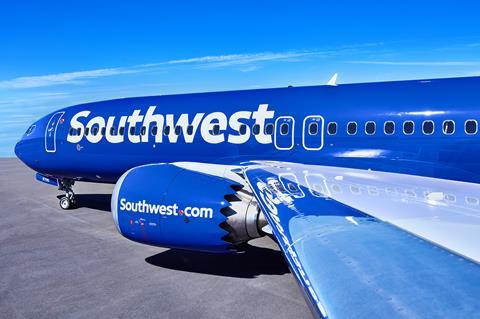 It says that based on "improving revenue trends and ongoing fleet modernisation plans", it has entered a supplemental agreement with Boeing to increase its 2022 firm orders by 34 Boeing 737 Max 7.
Southwest plans to receive the 34 additional jets in 2022. Those add to 30 other planned 737 Max 7 deliveries next year, bringing Southwest's total 2022 planned Max 7 deliveries to 64.
Southwest also holds firm orders for 149 737 Max 8s.
The airline has also moved forward options to purchase dozens of additional 737 Max. It brought 32 options forward to 2023 and 16 options forward to both 2024 and 2025.
Southwest now holds orders and options for 660 737 Max.
As a result of the changes, Southwest expects its capital expenditures will be $1.5 billion in 2022. That is more than double the previously planned $700 million.
"Fleet and capacity plans will continue to evolve as the company manages through this recovery period, and it will continue to evaluate its remaining 40 Max options in 2022," Southwest says. "The company retains significant flexibility to manage its fleet size, including opportunities to accelerate fleet modernisation efforts if growth opportunities do not materialise."
Southwest's fleet plan calls for the airline to retire 30-35 737-700s annually over the next 10-15 years.
In disclosing the new orders, Southwest cites improving revenue trends, saying "leisure fare levels in June and July 2021 are comparable with June and July 2019 levels".
However, "business travel demand continues to significantly lag leisure trends and is expected to continue to have a negative impact on close-in demand and average passenger fares in second quarter 2021", Southwest adds.