India's SpiceJet expects to resume operations of the Boeing 737 Max by end-September, though it acknowledges that the ultimate decision rests with the country's regulators.
The announcement comes as it disclosed a settlement with lessor Avolon over the aircraft type, which remains grounded in India following two fatal crashes in 2018 and 2019.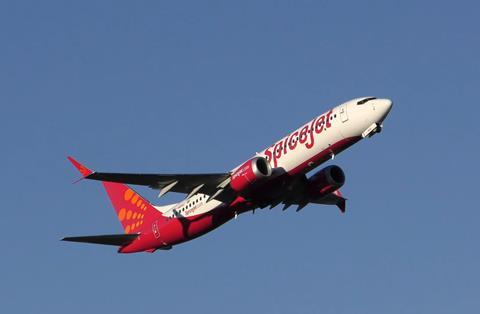 SpiceJet did not elaborate what the settlement entailed, though it says the settlement "[paves] the way for the airline's 737 Max aircraft to start to return to service".
Avolon declined to comment when approached by FlightGlobal.
The announcement is the clearest signal yet from the low-cost carrier — India's only 737 Max operator so far — about the fate of the popular narrowbody in India. Cirium fleets data indicates SpiceJet has 13 737 Max 8s in storage, with orders for more than 120 examples. It also has 20 737 Max 10s on order.
Says SpiceJet chairman and managing director Ajay Singh: "As India emerges from Covid-19 and air traffic picks up again, the [737 Max] aircraft will play a major role in our future expansion. With a better and a more efficient fleet back in operation we expect a significant reduction in our operating costs improving our bottom line."
Following a global grounding in 2019, several major economies around the world have allowed the 737 Max to resume operations, including the US, Canada, as well as the European Union.
In Asia-Pacific, the type's return to service has been comparatively slow. Australia in February became the first country to lift the 737 Max grounding, and this was followed by Fiji and New Zealand.
China, a key Boeing market which was the first in the world to ground the 737 Max, still bans the aircraft from flying, though its civil aviation authorities have recently signalled openness to recertificating the aircraft.
India cleared the 737 Max for overflight in April, though it has yet to lift the type's grounding fully.