Lufthansa subsidiary Swiss is temporarily withdrawing 28 older Airbus A320-family aircraft from service for the winter timetable to save costs, and instead deploying "more efficient" Airbus A220s, A320neos and A321neos across its short- and medium-haul network.
The Zurich-based carrier made the disclosure on 5 November as it reported a Swfr415 million ($452 million) operating loss for the nine-month period to 30 September, compared with a profit of Swfr490 million in the first three quarters of 2019.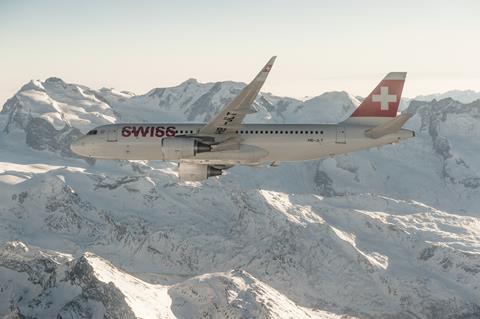 Its third-quarter operating loss of Swfr148 million was lower than the Swfr244 loss incurred in the second quarter, which the carrier attributes to the gradual restoration of flights over the summer and "substantial cost reductions".
Swiss says it is temporarily taking the 28 A320s out of service "in a further effort to lower costs". Other actions include "deferring all projects and investments companywide that are not essential to business operations", and the reduction of 1,000 jobs over the next two years through a combination of hiring freezes, early retirements and part-time working options.
Earlier this month, Swiss agreed a "time-limited" labour pact with the Kapers union, which represents its cabin crew. If ratified by members, the agreement will begin in March 2021 and run until 2023, reducing costs by 10% during that period.
Revenue for the nine-month period ended 30 September fell almost 62% year-on-year to Swfr1.54 billion. Capacity was cut 63% and RPK traffic fell 72%, resulting in a 20 percentage-point drop in load factor to 64.2%.
"Given the paralysing effect that the various quarantine provisions have had on our customers' booking behaviour over the past few months, this nine-month operating result is in line with our expectations," states Swiss chief financial officer Markus Binkert.
"With rigorous cash and cost management, we were able to minimise the cash drain in the third-quarter period. And despite the extremely difficult market environment, we are on course in bank loan terms, and our liquidity is not at risk."
Nevertheless, Swiss is expecting a tough fourth quarter, and says that "for the first time in 15 years" it will report a full-year operating loss.