Tarom is expecting to start taking delivery of new ATR 72-600s in February 2020, after the Romanian flag-carrier formally signed for the acquisition of nine of the turboprop type.
The airline had disclosed an initial lease agreement for the aircraft earlier this year and originally indicated it would receive them from October.
But the carrier has been caught up in management turmoil, with a series of replacement chiefs including a successor to Madalina Mezei, who had been in charge at the time of the ATR agreement and whose departure was the subject of intense controversy.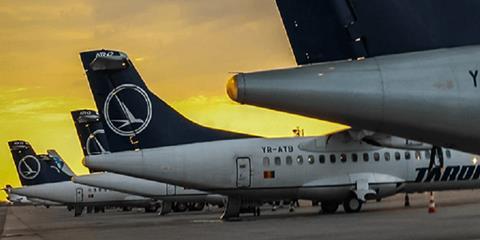 The Romanian ministry of transport says Tarom is in the process of renewing its entire ATR fleet, and says the first four ATR 72-600s will arrive in early February at the latest.
It adds that the rest will be delivered over the course of the remainder of 2020.
Tarom is leasing the aircraft for a 10-year period and will provide maintenance support through its technical division.
"The new ATRs will not incur additional operating costs, but will have increased transport capacity," says the ministry.
Transport minister Lucian Bode acknowledges that the airline has gone through several periods of "turbulence" but is "beginning to recover".
He says he has directed the carrier's management to focus all its attention on profitability. "Each leu that is spent by the company must contribute to its recovery," he adds.
"I want the efforts that we make together to produce results. The conclusion of this [ATR] contract is in line with the objectives laid down by Tarom management. It is an important step in fleet renewal, a process I support."