Virgin Atlantic expects to be operating five more aircraft in summer 2023 than it did this year after launching services with its first Airbus A330neo.
The UK carrier is deploying its first Rolls-Royce Trent 7000-powered A330-900 on flights to Boston and its new routte from London Heathrow to Tampa, which it launched today.
Speaking to FlightGlobal on board the carrier's A330-900-operated inaugural flight to Tampa, Virgin's chief customer and operating officer Corneel Koster explains: "Between this summer and next, we are going to take another three [A330-900s] and another A350. So next summer we will be five aircraft larger than we are now."
He says the airline this summer operated around 90% of it pre-pandemic sectors with around 20% less aircraft capacity than in 2019, having phased out its larger Boeing 747s and Airbus A340-600s during the crisis.
"We have less aircraft and smaller aircraft, but we are flying a lot of sectors and are generating a lot of revenue," Koster says "This summer we ran record revenue… but we were 18% smaller in seats – which shows you something is working. It shows you demand is strong."
Virgin currently operates 10 A330-300s, alongside its newer A350s and Boeing 787s, and the incoming A330-900s will ultimately replace the older Airbus type in its fleet
"We have 16 [A330-900s] on order and we have 10 A330 classics, so it replaces the 10 classics. But it replaces them with some phasing, so that we can grow faster and we can grow 16 versus 10," he explains. "By late 2026, possibly early 2027, we will have all of them in the fleet. So we can grow our fleet every year.
"It's important to say, we could also not grow our fleet – we could phase out aircraft faster. In aviation you have to have flexibility. But our base plan and our strong intent is to grow our fleet and we believe demand is there, and this is an efficient way to do it."
Koster says the A330-300s will be phased out by 2026, meaning Virgin will by then be operating an all new-generation fleet. He points to the contribution that operating new aircraft will make to cutting the carrier's carbon emissions and improving efficiency.
"It's very difficult to decarbonise long-haul, even though we are working very hard on it. Flying modern aircraft is the best thing we can do to reduce our fuel burn, So this is 11% more carbon efficient than the A330ceo it replaces and its 50% less noise if you live [near the Heathrow flightpath]."
In addition it has enabled the airline to roll out its new interior, which includes its new Retreat Suites – consisting of two executive suites at the front of the upper-class cabin. "A new aircraft is a great opportunity to elevate and lift our customer experience, to make it even more Virgin, to offer better connectivity, better personalisation, more comfort," he says.
The twinjet is configured with 32 Upper Class seats, including the two Retreat Suites, as well as 46 and 184 seats in the premium economy and economy cabins respectively.
Koster also highlights the operational efficiencies that fleet commonality with the A350 provides. "It's efficiency, it gives us network opportunities and it offers us growth," he says.
Tampa is the first illustration of a new route where the aircraft is being deployed. The service is the first to link Heathrow with Tampa and marks Virgin's third Florida destination.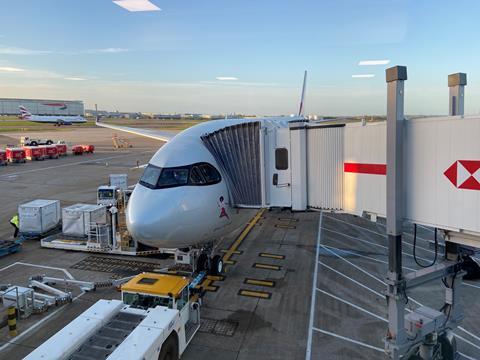 "By the end of this month we will already be daily on Tampa. Initially this aircraft will be on Boston and Tampa, and the next destination you will see it on will be Miami. But eventually you are going to see this on a lot of our routes, and I'm sure eventually it will turn up on New York too," he says.
"This [aircraft] is very versatile. It can do all US destinations, it can do India, it could do Nigeria. On 80% of our network, this aircraft will work."
Tampa marks Virgin's second new US destination since the country reopened international borders to fully-vaccinated travellers a years ago, after it launched flights to Austin in the summer.