Virgin Australia will add another four Boeing 737 Max 8 aircraft to its fleet, amid sustained strong demand for travel, and in line with fleet growth plans.
The commitment, announced 24 August, adds to an existing order for four Max 8s – announced in April – and 25 larger Max 10s.
Virgin Australia says delivery of the Max 8s are still on track for 2023, with the latest four jets to enter the fleet in the second half of next year. It did not indicate whether the aircraft were direct orders from Boeing or from a lessor.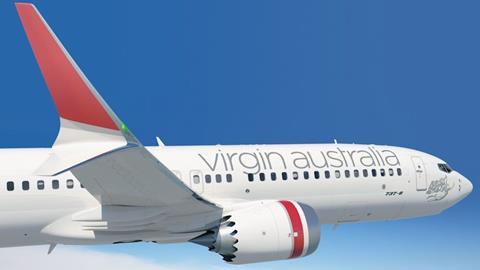 "These additional aircraft support capacity increases in-line with Virgin Australia's broader growth strategy bringing total Boeing 737 fleet to 92 (consisting of 737-700s, 737-800s and Max 8s) an increase of nearly 60% since relaunching in November 2020," states the carrier.
Airline chief Jayne Hrdlicka adds that "demand for travel remains strong", despite challenges confronting the airline sector.
Separately, Virgin Australia has also secured "priority access" to a 737 full-flight simulator in Perth, allowing to increase training capacity by about 25%, particularly for over 200 pilots based in Western Australia.
The deal is part of a long-term partnership with aviation training provider CAE, and is the airline's first training facility outside of Queensland and Victoria states, where it bases most of its operations.
Hrdlicka states: "Demand for 737NG simulator training is at extraordinary levels globally and securing this capacity at home is an enormous benefit to both Virgin Australia, and our pilots undergoing training."
Simulator access is expected to be granted from April 2023, the airline adds.
"The future of Virgin Australia is bright, and today's announcements highlight our commitment to maintain strong competition for Australians who want to travel and experience great value. It also underscores our confidence in our underlying performance and commitment to Net Zero carbon emissions by 2050," says Hrdlicka.