Volaris will finance its fleet via operating leases rather than with direct purchases until at least 2023, chief financial officer Jaime Pous has disclosed.
Speaking during the Mexican carrier's second quarter results call on 16 July, Pous was asked whether Volaris was now generating enough cash to justify purchasing aircraft as opposed to leasing them.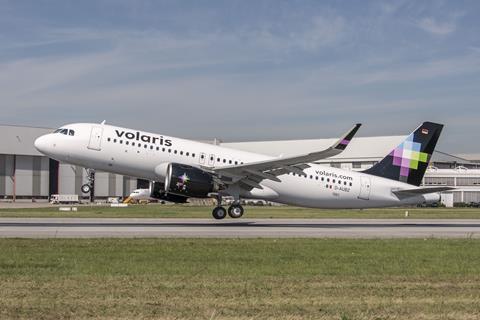 "We believe we are not in that point, neither this year, nor the next one," Pous responded.
Volaris chief executive Enrique Beltranena says the Mexico City-based carrier has achieved "absolutely astonishing" sale-and-leaseback rates, especially in relation to 28 aircraft it contracted over the last three months. He therefore sees no reason for the carrier to change its financing strategy in 2022.
The low-cost carrier has reported a second-quarter operating income of Ps2.7 billion ($130 million), up 302% from the same period in 2019.
Cirium fleets data shows that Volaris has 92 Airbus A320-family aircraft in service, all of them leased. AerCap, Air Lease, Aircastle, SMBC Aviation Capital and Bocomm Leasing are among the lessors with exposure.
The carrier has 52 A320neos and 43 A321neos on firm order.
A presentation to coincide with the second-quarter results shows that Volaris will grow its fleet to 101 during 2021 and to 113 by 2022, at which point Neos and Ceos will account for 54% and 46% respectively.
Beltranena says the new aircraft will be deployed to increase frequencies in the Mexican domestic market and expand the carrier's presence in Central American market such as Costa Rica and El Salvador.