Pan-European carrier Volotea will add six more Airbus A320s to its fleet this year as it continues to expand beyond its pre-Covid capacity.
The Spain-headquartered airline – which focuses on serving mid-sized European cities – transitioned to an all-Airbus fleet last year following the early retirement of its Boeing 717s amid the pandemic. Its fleet strategy involves taking second-hand aircraft through lessors.
"We are very proud to increase our fleet with six more Airbus A320s," says Volotea chief executive Carlos Munoz. "By growing our fleet with more modern aircraft, we will increase our competitiveness and take advantage of sizeable opportunities as we move forward, while becoming more responsible in protecting the environment."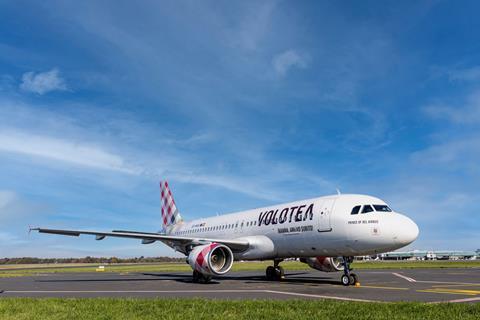 Cirium fleets data shows Volotea has 36 aircraft in its fleet: 20 A319s and 16 A320s, the youngest of which is nearly 11 years old. The carrier says it plans to operate between 41 and 45 jets in 2022, suggesting retirements and deliveries beyond the aforementioned A320s are possible.
Volotea notes it is on track to increase its capacity by almost 40% in 2022 compared with 2019, when its fleet comprised 19 A319s and 17 717s.
Its 717s featured 125 seats, while its A319s have 150 or 156, and its A320s 180.
The carrier launched as an all-717 operator in 2012 but began taking A319s in 2016. It completed the withdrawal of 717s from its fleet in early 2021 – two years sooner than originally planned – and began taking A320s. Its summer 2021 capacity was around 30% up on pre-pandemic levels.
Volotea currently has bases in 18 European cities and serves more than 100 destinations through a mixture of domestic and international operations.