Canadian company WestJet Group plans to complete its integration of Sunwing Airlines' fleet of Boeing 737s by October 2024.
The parent of Canadian carrier WestJet said on 29 September that "planning and integration activities are well underway", adding that Sunwing's fleet will be moved onto WestJet's air operator certificate.
"As we execute upon our network strategy to serve the Canadian leisure market from coast-to-coast, we look forward to consolidating Sunwing Airlines' 737 aircraft with that of WestJet's, enhancing our ability to meet the diverse travel needs of all Canadians," says Alexis von Hoensbroech, WestJet Group's chief executive.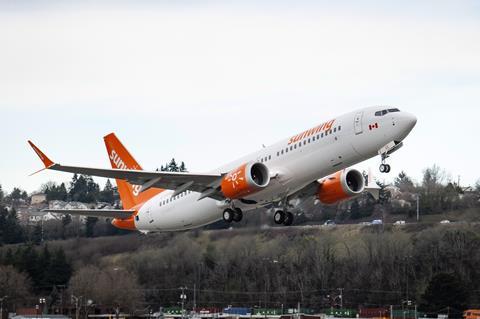 Both Sunwing and WestJet operate 737s. Sunwing currently operates 11 of the narrowbody jets – nine 737 Max aircraft and two older 737-800s, according to Cirium fleets data.
Calgary-based WestJet disclosed on 1 May that it had completed its acquisition of the competing discount carrier – a deal that has raised anti-competition concerns but has been touted by WestJet as benefiting cost-conscious air travellers.
The combination leaves Canada with one fewer independent discount airline, though the country's leisure market has been shaken up in the past two years with new entrants such as Canada Jetlines, Flair Airlines and Lynx Air.
The deal's purchase price has not been publicly disclosed.
The airline tie-up also brings Sunwing's vacation business into WestJet's portfolio. Fleet integration activities will have no affect on Sunwing Vacations Group and it's affiliated brands, WestJet says.
Meanwhile, WestJet's integration of its low-cost carrier – Swoop – will be completed by 28 October, the carrier says.