Boeing's current strategy seems to be riven with contradictions. While these are not mutually exclusive, they appear a clear source of tension.
Take, for instance, the airframer's plan that by the middle of the decade it will once again be delivering 800 commercial aircraft each year and raking in $100 billion in revenue.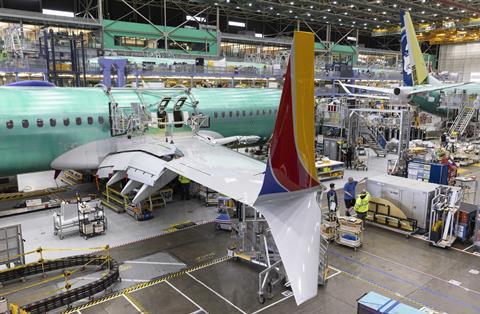 Achieving those targets would mean a return to a financial and delivery performance last seen in 2018 – or in other words, a return to the good times; a point before decisions taken by Boeing's previous management proved to be so catastrophic.
2018 was the last 'normal' year for Boeing: by the following March the 737 Max – the manufacturer's cash cow – was beginning the 20-month grounding from which the programme and the company are still struggling to recover.
True, Covid-19 was a crisis beyond anyone's control, let alone Boeing's – but as doctors will tell you, symptoms are more severe if the patient is already in a weakened state.
TOXIC MIX
Therefore Boeing's predictions of a mid-decade rebound rest heavily on it resolving the problems that continue to linger: a toxic mix of external supply chain tension, geopolitics and issues spilling over from the Max crisis – undelivered inventory and heightened regulatory scrutiny, to name but two.
These challenges are not insurmountable but will require deft management footwork – and not a little luck – to navigate successfully if Boeing is to hit its 800-aircraft per year target.
Similarly, the company's misfiring defence division appears in need of repair. In the most recent financial quarter, forward charges were once more booked against several military programmes, a consequence of fixed-price bids that have left Boeing on the hook for billions of dollars in cost overruns.
Such loss-leaders are fine if you can execute aircraft development without a hitch – but as Boeing has discovered, they are hugely costly if you cannot.
Meanwhile, new aircraft development remains on hold. Boeing's leaders say they do not see sufficient maturity in next-generation engine technology or production systems to merit the launch of a new jet in the short term.
Perhaps so, but there is a feeling in some quarters that the airframer is merely justifying its own inertia. And as many note, there is sometimes a bigger cost to not investing rather than spending money: all the time that Boeing does nothing, Airbus will continue to chip away at its rival's market share in the narrowbody segment – particularly at the upper end, where the A321XLR faces limited, if any, competition.
What share of the market will Boeing ultimately tolerate? Based on total orders for re-engined single-aisles that figure is currently hovering around 44%, but there is a distinct possibility of further erosion. If it reaches, say, 30%, Airbus will have a huge installed base to count on when the time comes to launch a Neo successor.
Boeing's success or failure at this point is not pre-ordained, but the mess left after four years of disruption means there remains much work for the airframer's management to do if it is to achieve its lofty goals.