In the past eight months, United Airlines has been on a tear. The Chicago-headquartered company has committed to at least six massive investments in innovative aerospace technologies that it hopes will relegate its image as a lumbering behemoth of the US skies – weighed down with the baggage of tradition – to the history books.
Chief executive Scott Kirby and his airline are on the cusp of a new era in aviation, and are banking on the fact that United's future passengers will gladly pay a premium to get from point A to point B faster, and in style. The company has embraced electric vertical take-off and landing (eVTOL) air taxis, electric regional aircraft as well as Concorde-like supersonic airliners.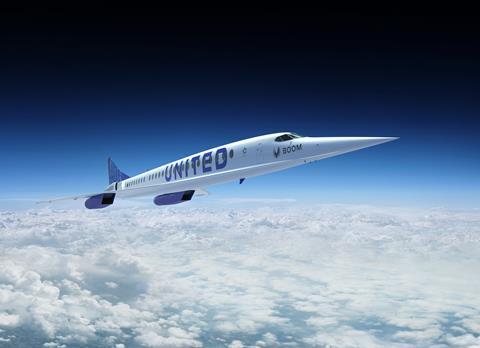 The current airline transportation system is based around passengers driving to overcrowded major airport hubs and then cramming on to large jet airliners.
United thinks eVTOL and electric regional aircraft could feed travellers to major airports more effectively – or bypass hubs completely – while supersonic jets would cover longer routes in less time.
Turning this futuristic vision of aviation into reality will probably take decades. And the cost? Well, no-one is sure. But United has at least made a few down payments against its plan.
There has been a steady flow of orders from the carrier this year as it brings together these transformational jigsaw pieces. In February, there was a deal with Archer Aviation for 200 eVTOL air taxis; in June, Kirby committed to the purchase of 15 faster-than-sound "Overture" aircraft from Boom Supersonic, with options for 35 more; and in July, United and its regional partner Mesa Airlines announced their intention to acquire up to 200 19-seat electric regional aircraft from Sweden's Heart Aerospace, plus an undisclosed investment in the company.
While only the Archer order had any indication of its value – $1 billion – it is safe to say that shaping the future does not come cheap.
It is difficult to say which of these three projects is the riskiest – or most rewarding. All of the technologies face an uphill climb to become technically viable, certified and financially sound. And so far not a single one of the in-development aircraft upon which United has placed its costly bets has flown a single – even uncrewed – test mission.
Amid the whizz-bang of supersonic travel and electric aircraft, Kirby has also made fighting climate change a top priority, launching several schemes as United becomes ever more aggressive in its efforts to achieve carbon neutrality by 2050.
But the airline's core business – transport of passengers between cities in today's commercial aircraft – is not being ignored: in June, United placed the biggest new aircraft order in its history as it speeds the renewal of its narrowbody fleet. Those 200 Boeing 737 Max and 70 Airbus A321neos are due to begin entering service in 2022.
To some observers, Kirby is a visionary; an ambitious ambassador for an industry reinventing itself as travel habits and expectations shift in a post-Covid environment; a bold futurist who has taken the crisis and turned it into opportunity.
For others, he is a fool, sinking billions of the company's hard-earned cash into pie-in-the-sky futuristic projects that may never see the light of day, or gain the acceptance of the customers it aims to serve.
Kirby the technophile is determined to lead his airline in the 21st century with a host of new technologies that could permanently change air travel.
"United is the new leader in global aviation," he declared at the event celebrating the aircraft order on 29 June.
It remains to be seen if the flying public agrees.