Squint and it looked just like any other air show: the rows of new aircraft, the chalet lines, the crowds, and above it all, the beautiful cacophony of the flying display.
And, yes, Dubai boasted the same triple-digit orders as air shows past; another signal, the argument goes, that airlines – and by extension, aerospace – are in recovery; apparently more jets are the answer, not fewer.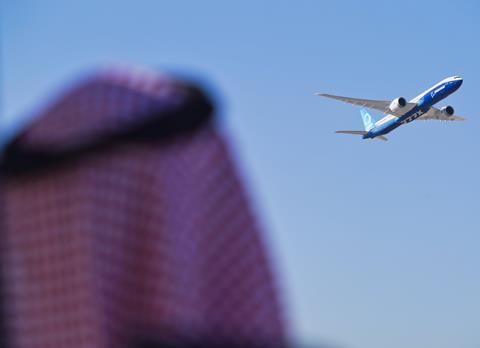 But reminders of the industry's troubles were never far away. On the other side of the airport from the show site row upon row of Emirates jets remain parked up, still yet to be reactivated.
And although the crowds were back, masks remain de rigueur – a sign that optimism alone cannot kill the virus.
It was instructive as well to look at who exactly was ordering those new aircraft, and what they plan to take. By and large those blockbuster deals were placed by well-funded low-cost carriers for single-aisle jets, as they look to capitalise on the financial weakness of their full-service peers.
Indeed, in a sign of continued nervousness, the news of soaring Covid case rates and a return to lockdowns in some European countries that emerged as the show wound up was enough to send shares in airlines tumbling again.
Cargo also continues to offer positive momentum: Airbus secured a launch customer for its A350 freighter in Dubai and Boeing announced yet more conversion lines for the 737-800.
Although the 777X was undoubtedly a star of the show, Boeing stayed silent on its plans for a freighter variant. But with its great rival having moved first, all the signs are that development of the -8 will be pushed further to the right in favour of a 777XF.
Overall, relief seemed to be the overriding emotion in Dubai – relief that the industry had endured and was now poised to bounce back. That feeling tumbled out in press conference after press conference which opened with the phrase "it's fantastic to be here in person again", or a version of it.
Discounting the ghostly event that was the 2020 Singapore air show, Dubai in 2019 was the last big industry gathering before the coronavirus took hold.
That the 2021 edition felt like something of a return to normality – a book-end to the pandemic, perhaps – was welcome; a sign that vaccines and immunity are slowly having an impact.
But the resurgence of the virus in Europe shows that Covid-19 is not yet behind us. Quite what normality will look like remains to be seen.
With that in mind, the industry must be cautious that all the signs of recovery generated amidst the heat and light of the desert do not turn out to be nothing more than a mirage.