The timing of Afghanistan's second fall to the Taliban was notable not only for its spectacular pace, but also because it occurred less than one month before the 20th anniversary of the 9/11 attacks on the USA.
The collapse of the US- and NATO coalition-backed Afghan government, whose leaders fled the country on 14-15 August, prompted many to question the value of what had been a 20-year intervention spurred by the terrorist strikes on the World Trade Center's Twin Towers in New York, and the Pentagon near Washington DC.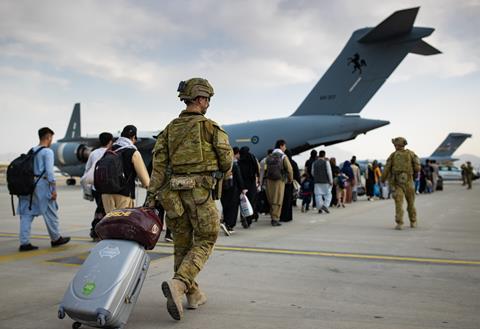 Amid chaotic scenes in Kabul, comparisons were also made with the fall of Saigon in 1975, after US helicopters – including Vietnam War-era Vertol CH-46s now operated by the Department of State – ferried diplomats and embassy staff to Hamid Karzai International airport.
But this was no repeat of the Vietnam War, where Washington's ambition to win hearts and minds and repel communism's advance was doomed to fail. Instead, its combat involvement in Afghanistan was primarily a means of neutralising the threat of the Al-Qaeda terrorist group and its leader, Osama bin Laden, who was killed in a special forces raid in Pakistan a decade ago.
Beyond that point, the international mission was focused on the containment of militant groups and creating and equipping an Afghan military which was believed capable of countering the Taliban. This had included providing its air force with assets including Sierra Nevada/Embraer A-29 light-attack aircraft and Sikorsky UH-60A Black Hawk utility helicopters.
However, once faced with the resurgent Taliban only weeks after NATO had concluded its Resolute Support mission, Kabul's armed forces simply dissolved. In an exodus headed by Afghan President Ashraf Ghani, who fled to the United Arab Emirates, almost 600 personnel also escaped to Uzbekistan, reportedly taking 46 air force and Special Mission Wing aircraft with them.
The collapse of air traffic control provision prompted ICAO to declare the nation's airspace as "uncontrolled", and a situation which had already been made difficult by the departure of skilled NATO personnel has slipped to one where the future of commercial air travel is in major doubt in the country.
While welcome, conciliatory early statements by Kabul's new warlords – and their granting permission for Western powers to mount a frantic airlift to repatriate stranded nationals and evacuate refugees – are unlikely to be matched by acts of forgiveness and tolerance.
In a tribal nation with a centuries-old tradition of almost continual conflict, this is unlikely to be the last attempt by outside powers to encourage stability. But for the current US administration, continuing to focus on suppressing a militarily inferior foe in a "forever war" while near-peer rivals China and Russia make major advances was too big a risk to take.
There were many loose ends still to be addressed ahead of a 31 August deadline for the USA and its allies to withdraw the last of their personnel from Afghanistan. These included determining how many more of the combat aircraft provided to the nation's air force over recent years could also be extracted. An inability to do so could yet mean Washington's involvement ending with a bang, to ensure that the equipment does not stray into the hands of other hostile powers.