Consider this: On a Friday in July 2019, 11 airlines operated 66 flights from Washington DC to New York City-area airports, departing once every 18min.
They were all narrowbodies or regional jets – small aircraft making short hops through some of the world's most congested airspace and between cities also served regularly by trains.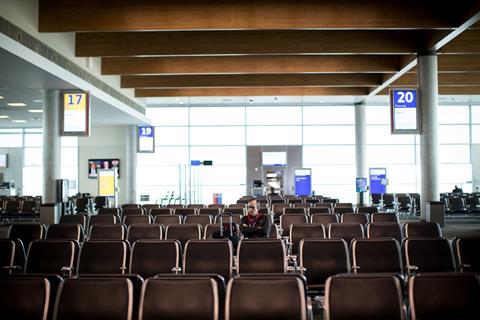 Fast forward: on Friday 17 July, carriers operated just 15 flights on those routes. And load factors are in the gutter – just 34% for Delta Air Lines' total operation in the second quarter, which, on the bright side for passengers, has gone far in making for a relatively chaos-free journey.
Likewise, July 2019: 95 commercial aircraft – all narrowbodies or regional jets – took off from Rio de Janeiro bound for Sao Paulo, and 31 widebodies left London for New York.
This year, there are just 31 Rio-Sao Paulo daily flights, and three daily flights link London and New York.
That the airline downturn is fully seeping into the aerospace industry became apparent on 29 July when Boeing announced a major contraction.
The airframer is trimming 777 production to two jets monthly, down from five last year, and bringing 787 output to six aircraft per month, down from 14 last year. The airframer also applied the brakes to the 737 Max ramp-up.
Additionally, Boeing is examining whether it makes sense to consolidate 787 production, potentially moving assembly of the widebody away from either Everett or North Charleston.
And though Boeing chief executive David Calhoun says Boeing intends to bring 787 production back up when the recovery comes, analyst doubt Dreamliner rates will ever return to where they were.
Airbus has likewise trimmed production of its commercial range, and industry watchers suspect more cuts are coming.
The contractions have spurred questions about whether the airframers left themselves over-exposed to market weakeness by hiking output to historic highs in recent years.
Analyst Richard Aboulafia, never one to mince his words, calls Boeing's 14-per-month 787 rate in 2019 "madness".
Now, with most carriers wanting absolutely nothing less than to receive new aircraft – particularly widebodies – airframers must get smaller fast.
The airline and aerospace industries have been through tough downturns before, but the scope of this year's fall seems particularly stark when viewed against the frenzied, unbridled, sky-is-the-limit growth of recent years.
Airline executives insist that yes, their business will recover to pre-virus form. Many predictions put a return to 2019 levels in 2023 or 2024, although some see the full rebound taking much longer.
Industry recovers, but the sheer scale of this reversal is so unprecedented – from boom to bust in an instant – it raises fundamental questions about whether airlines or the manufacturing sector that supports it will ever again look like they did in 2019.
And, might the downturn fundamentally change the future of air travel, for better or worse?
With all that has been upended in four short months, predictions are for the birds.