At the turn of each year, the industry's attention normally focuses on which of the big two airframers has come out on top in the orders and deliveries battle.
But although it exhibited more signs of normality than the prior 12 months, 2021 was far from a regular year.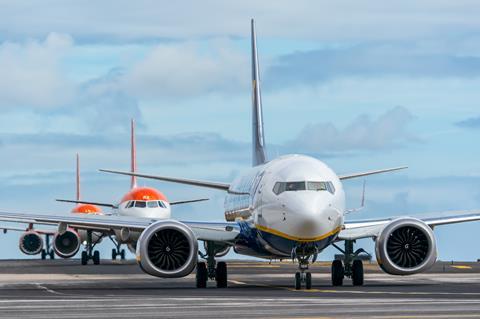 There is little doubt that Airbus will out-deliver its rival: by the end of November it had shipped 518 aircraft against a 600-unit target, while Boeing – hampered by issues related to both the 737 Max and 787 – had handed over just 302 commercial jets.
On the orders front, the issue is less clear cut. Boeing at the same point in time had its nose in front with 400 net orders, against 368 for its rival. But while Seattle's total of 829 gross orders is even more impressive, it is also grimly indicative of the rate of cancellations seen during 2021.
However, those figures do not take into account the orders that both airframers raked in during a busy December.
Should Boeing come out on top despite its various challenges, it may feel like a hollow victory.
The losses of long-time narrowbody customers Air France-KLM and Qantas to Airbus – in a pair of deals announced in the last weeks of the year – would be painful enough on their own, but are rendered infinitely more uncomfortable by what they say about Boeing's single-aisle range.
Few doubt that the 737 Max is a fine, fuel-efficient aircraft that can hold its own against the A320neo. However, sales of the jet appear hamstrung by a line-up that does not match the breadth and gradation of its rival, spanning the A220-300 at one end to the A321XLR at the other.
Airbus, at the end of November, boasted an undelivered backlog of 5,765 A320neo-family jets: significantly ahead of Boeing and its 4,076 Max aircraft.
More ominous, however, is the shape of Airbus's single-aisle backlog: a little over 3,300 of those orders are for the A321neo and its variants. In other words, the bulk of its rival's commitments are for an aircraft to which Boeing has only a partial answer.
It seems a little unfair to blame Boeing chief executive David Calhoun for this state of affairs – after all, he has only been in post since January 2020, and cannot be held responsible for the strategic blunders of his predecessors.
In addition, precious time and engineering resources have had to be expended to solve the various issues that have plagued Boeing's range, further limiting the airframer's room for manoeuvre.
At some point the US giant will have to formulate a response, unless it wishes to cede further market share to Airbus. Is facing a 60:40 orders split the limit, or 70:30 – or worse?
With the longest-range A321XLR due to enter service in 2023, Boeing may already be playing catch up. Decisions need to be made, and made quickly.
While Calhoun gets a pass for the past, he has much to ponder if he wants to shape the future.