Stefan Murphy is founder and managing director of Up & Away Aviation, a valeting firm for business and commercial aircraft that has reacted swiftly to provide disinfecting services during the pandemic
What sparked your interest in aviation?
Back in 2008 in Oxford, I was established as a mobile car valet when a friend asked me to help clean an aircraft. My business had been running since 2006 and I didn't have any interest in aviation at all before then, but once up close I quickly discovered that genuine passion that grips us all in our great industry. My interest grew from that and I set Up & Away Aviation in late 2008. Operating from an office at Oxford airport, we offered a range of interior and exterior valeting services for aircraft. I have never looked back. Today, I live, breathe and sleep it.
At what point did you realise you were on your way to success?
It took a good few years before I realised what a great niche business I was involved in. Clients and owners need their aircraft to be clean, smart and ready for purpose. They also need reliability and flexibility. With a firm focus on customer service, I have been pleased to build up a business that supports over 250 employees, active at eight airport stations in the UK. Eighteen months ago our management team decided to split the business into two revenue streams – our business aviation (non-scheduled) activity and commercial airlines, which are operating round the clock. The business ramped up our personnel two-fold. We now look after three leading low-cost carriers at Leeds Bradford and London Stansted airports, plus six other business aviation bases. Where possible, we recruit locally sourced cleaners and detailers and handle all their training in house.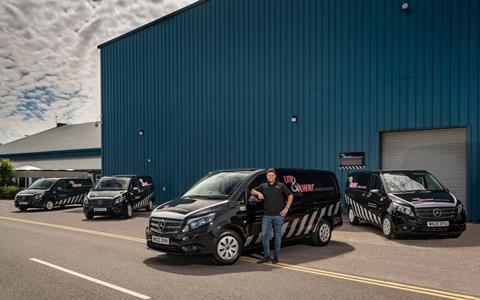 Can you name a few business highlights to date?
Helping operators remain safe and compliant, rallying during the coronavirus pandemic is definitely up there. We responded quickly to invest in machinery and personal protective equipment (PPE). We bought masks, oversuits, goggles, disinfectant sprays and when the virus got very serious, built up our own universal precaution kits. We have completed over 1,400 cabin disinfections since March and widened our customer base to cargo operators during this time. Our 2015 acquisition of Gama Aviation's aircraft valeting business, Avialogistics, was a strategic expansion highlight, giving us a base at Farnborough airport. Some of the original staff remain with us, marking 15 years in valeting. Every day is a highlight really, considering what my team does. They are incredibly focused.
How would you describe a typical day and what do you most enjoy about your role?
I love the buzz of still being able to both run, own and enjoy the business – and take decisions quickly. The business model allows me to be client facing and roll up my sleeves from time to time. A typical day will see me up at 0530 checking emails and catching up with our ops team on the shift changeover at 06:00 ahead of what is always a busy day. I head into the office for a few hours to ensure any projects or emails are up to speed and up to date. Most days I will head out to an airport or go to look over a few jobs taking place across the UK at any of our eight stations. Sometimes I'm in Europe working on other projects, but mainly running around our UK network 12h of the day. It's important to show face weekly with the team. It's a great relationship builder and allows us to work on feedback and client relations when moving around, which is our focus. We are always looking to better what we do, or see how we can add to our services, offering a one-stop shop for aircraft operators, fixed-base operators and MROs.
How have you evolved during the pandemic?
Our business model changed very early on, adapting to the requirements from operators, which gave us an indication of how and what was needed to support as many operators and businesses in the sector to allow them to continue to fly and support requests safely. As well as completing over 1,400 disinfections to aircraft, we have supplied over 4t of PPE to UK customers, mainly face masks.
What are your plans come the rebound?one
We were looking seriously at expanding into Europe and had identified four locations pre-coronavirus, as well as launching a couple of complementary support services. When we do move, I am sure this will bolster our gravitas as an established and trusted cleaning provider, which is investing in its services to keep up demand and quality. Our move into the commercial airline sector already saw us commit some £1.2 million ($1.5 million) in equipment and assets. Safety is and will always be our number-one priority and renewing our fleet every three years is another important one.
If you weren't doing this what would you enjoy?
I have a number of extreme motorsport hobbies, but a recent one, which is far safer for me as I cannot afford to get injured (as I did in the past) is motor racing. I compete in an endurance series driving a BMW Z4 around the UK at most of the main racing circuits, such as Brands Hatch, Donnington and Silverstone. I'm looking forward to getting behind the wheel again. It's a real opportunity to switch off, giving me some great downtime away from work. It can prove difficult to achieve that when you so enjoy the day-to-day buzz so much.
If you would like to feature in Working Week, or you know someone who would, email your pitch to kate.sarsfield@flightglobal.com