By keeping its eye on two goals - refuelling fighters and operating from a carrier - the MQ-25A Stingray development team expects its unmanned air vehicle (UAV) to achieve initial operational capability (IOC) by 2024; other functions can come later
The Boeing MQ-25A Stingray in-flight refuelling tanker is on track to achieve initial operational capability (IOC) by 2024. That is thanks to a narrow set of development goals, close integration with Naval Air Systems Command personnel and the early test use of a flyable prototype, says Boeing.
The manufacturer adds that the core of its MQ-25A development strategy is waving off distractions in order to deliver on just two goals: building an aircraft that can fly from an aircraft carrier deck and can refuel fighters. "If we focus on what's in front of us and do it well, we are sure it opens doors," says Dave Bujold, director of the MQ-25A programme. "If we don't focus on what is in front of us and don't do it well, we are sure it closes doors."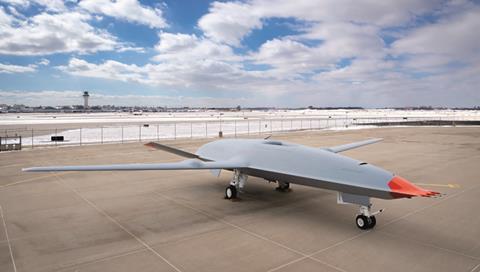 Developing a UAV to refuel combat aircraft is a high priority for the US Navy (USN) because the range of its fighters, such as the Lockheed Martin F-35C and Boeing F/A-18E/F, is too short. That forces aircraft carriers to sail dangerously close to the shores of adversaries, such as China, which possess long-range anti-ship missiles. Currently, to extend the range of those aircraft, the USN uses the F/A-18E/F as a stand-in tanker, a role that removes the Super Hornet from its core job as a combat aircraft.
The MQ-25A has also been floated by the USN and others as having multiple future roles, including as an intelligence, surveillance and reconnaissance (ISR) platform, but Boeing says it doesn't plan to expand the UAV's capabilities, noting the service's tanking priority.
In June 2019, the National Geospatial-Intelligence Agency announced its intention to award a sole-source contract to Boeing Phantom Works to study the capabilities of the company's Multi-Mission Pod on the MQ-25A. Bujold reiterates the USN focus is on aerial refuelling, but points out the aircraft has some limited ISR capabilities now.
"It's not doing anything crazy or exotic that would capture anybody's imagination," he says. "But it certainly is going out of line-of-sight communications with the carrier. So therefore it's an interesting player in the carrier air wing for potential ISR use."
Boeing is under contract to produce four engineering, manufacturing and development (EMD) MQ-25A tankers for the USN under an $805 million contract awarded in 2018. The service wants the MQ-25A to achieve IOC by sooner than 2024 if the results of flight testing allow. Boeing plans to start delivering EMD aircraft in 2021.
The USN will decide how many examples of the MQ-25A to buy after IOC. The Congressional Budget Office projects the service could buy as many as 75 aircraft.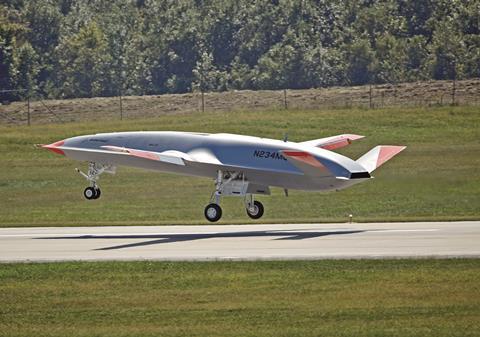 In order to get ahead, Boeing and the USN have collocated their development teams in St. Louis, Missouri. "It's really oriented towards speed of decision," says Bujold. "It's not sending things over in an email and waiting 10 days for an answer. We've got empowered [USN] people right here. They're in our reviews. They know what's going on."
The team is also performing flight tests on a Boeing-owned MQ-25A prototype, called the T-1. The T-1 has amassed near 30 flight hours since its maiden sortie in September 2019.
The T-1 is a "high-fidelity" prototype, with a design that closely represents the aeronautical performance and software code of the forthcoming EMD aircraft. That closeness has allowed the manufacturer to get an early start on testing that is usually reserved for later aircraft examples.
"By the time you start that classic developmental flight test, we'll already have retired some test points having used our T-1 asset," says Bujold. "A good example is later this year when we put the air refuelling store on T-1. We'll be exercising all the software it takes to control that store from the control station. And of course, that reduces all of the risk and increases our knowledge as we go."
Because air refuelling store testing was originally planned to be done later on the EMD aircraft, Boeing plans to beef up the left wing of T-1 to hold the fuel pod. Tests will look at deploying and retracting the hose-and-drogue system, watching how it behaves in the air stream.
In 2020, the Boeing-USN team also aims to install the Raytheon Joint Precision Approach and Landing System (JPALS), which will automatically guide the MQ-25A to the deck of an aircraft carrier.
As part of a separate initiative, manufacturer Raytheon is demonstrating an expeditionary JPALS variant that could one day guide the MQ-25A onto remote island landing strips, a capability that could allow the UAV to set up forward aerial refuelling points for fighter aircraft of the USN, as well as the US Marine Corps and US Air Force. Bujold declines to comment on the potential of the MQ-25A in expeditionary warfare, noting that the focus on carrier operations is the priority.
Ultimately, Bujold says that pragmatism, including a hand-in-glove relationship with the USN, helps the MQ-25A team work more efficiently.
"A significant number of my design team supports T-1 testing directly," he says. "I think that really makes them better designers."