Aeroflot Group carrier Rossiya will be the first airline to operate Russia's newest commercial twinjet, the Irkut MC-21, more than a decade after Russian President Vladimir Putin queried why Aeroflot appeared intent on dominating the domestic market yet was reluctant to acquire domestically-built aircraft.
Although Aeroflot, within weeks of Putin's remarks, signed up to take 50 MC-21s, the likelihood of the flag airline's operating the type still seems distant, following a recent rethink of the carrier group's long-term business and network strategy.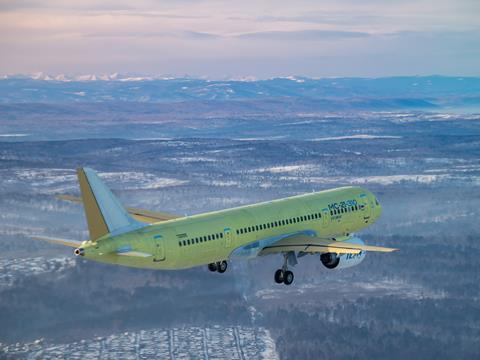 Under the strategy the Aeroflot Group airlines – comprising the mainline Aeroflot operation, plus Rossiya and budget carrier Pobeda – will be assigned specific network responsibilities. Aeroflot will focus on premium long-haul international routes from Moscow, while low-yield services will be handed to Pobeda.
Rossiya will be established as a Russian inter-regional carrier to provide connections that bypass the Moscow hub by establishing a network of regional bases. It will operate Moscow feeder services for Aeroflot and conduct international flights from St Petersburg.
But Rossiya will have a particularly notable fleet role within Aeroflot Group as the strategy unfolds over the next five to seven years.
"It will establish a centre of competence for Russian-manufactured aircraft development," says Aeroflot Group strategy chief Andrei Panov. "All domestically-built aircraft of the group will be concentrated in Rossiya."
Rossiya started introducing Sukhoi Superjet 100s last year, transferred from the Aeroflot fleet, and Panov indicated in March that Rossiya already effectively had 20 of the type.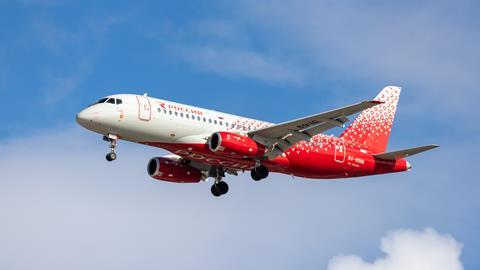 "Rossiya will receive all our [Aeroflot Superjets]," he says. The bulk of the aircraft, some 40 of them, will be moved to the carrier this year, with about 10 more following in 2022.
SIGNIFICANT CHANGE
But the most significant change to the Rossiya fleet will emerge once the MC-21 – now a sister aircraft to the Superjet, after the Sukhoi civil operation was brought under Irkut – is certified by Russia's federal air transport regulator.
"The first operator of the MC-21 will be Rossiya," says Russian state technology corporation Rostec, which oversees United Aircraft (UAC) and Irkut.
Certification has been a slow process, further complicated by the impact of the pandemic and the effect of US government sanctions on suppliers. As the MAKS Moscow air show opens, the single-aisle MC-21-300 – the Pratt & Whitney PW1400G-powered variant, and the first to be developed – will have spent four years in flight-test certification work, contrasting with just 15 months for Airbus's twin-aisle A350.
Serial production has edged closer and the wing panels for the first customer aircraft have been shipped by road from AeroKompozit's Ulyanovsk facility to Irkutsk.
There is no firm date for initial deliveries, but the aim is to hand over the first MC-21 by the end of this year.
Five aircraft comprise the flight-test fleet after the recent addition of the first MC-21-310, the variant fitted with Russian-built Aviadvigatel PD-14 engines – and set to debut at this year's MAKS.
Rostec described the 85min maiden flight of the MC-21-310, in mid-December 2020, as the "most important event of the year" for the Russian civil aviation industry.
"Creation of such a powerful duet as a modern, medium-range aircraft and a domestically-produced engine is a serious claim to success," it added, pointing out it had been achieved during a "time of sanctions".
Rostec says the MC-21 programme is progressing "despite an attempt to disrupt Western partners" through the interruption of composite material supply at a "crucial moment".
The aircraft has about a 35% share of composite structure, but Rostec says the obstacle has forced the Russian aerospace industry to adapt "in record time" to develop a domestic alternative, with specialists devising ways to produce large-sized composite parts.
Rostec even argues that the PD-14-powered aircraft will be attractive to customers in countries "under sanction restrictions", as well as those in its main target markets.
AeroKompozit, which, like Aviadvigatel, was included on a US sanctions list, manufactures critical composite structures for the MC-21, including wing panels and spars. It says it has been working with domestic materials "within the framework" of an import-substitution programme under which Russian industry has sought to reduce its dependence on foreign suppliers, and that preparations are under way for serial production of MC-21 wings.
"The company today is capable of producing composite wings for the civil aircraft industry," says AeroKompozit-Ulyanovsk general director Anatoly Gaidansky. "Ten years ago, there was no such technology and competence."
Obninsk-based firm Tekhnologiya says it developed, under import-substitution, several new structures from domestic composites for the PD-14, including multi-layered noise-absorbing honeycombs.
"Composite materials made it possible not only to increase reliability of the components but also the weight efficiency of the engine," Tekhnologiya says. "By solving such problems, we help to ensure the independence of the domestic aviation engine industry."
United Engine's Perm Motors division is the primary manufacturer of the PD-14, but various suppliers contribute to the powerplant. Some 30% of the components, including its hollow titanium fan blades and high-pressure compressor rotor, are produced by United Engine's Ufa-based division UMPO, while Perm-based UEC-Star has developed a fully-electronic automatic fuel-management and control system.
INDUSTRIAL TRANSFORMATION
Under an industrial transformation programme, turbine blade manufacture for a range of civil and military engines will be carried out at three specialised United Engine centres – Perm Motors, UMPO and Saturn – to position the company for PD-14 production, as well as development of other family powerplants: the lower-thrust PD-8, a demonstrator for which is under construction, and the high-thrust PD-35.
Russian civil aviation regulator Rosaviatsia had already certified the PD-14 and has newly granted authorisation for serial production of the powerplant, after evaluating quality-management systems and the processes for manufacturing, assembly and testing.
Rostec industrial aviation arm director Anatoly Serdyukov says several PD-14s will be produced as spares for the MC-21-310 flight-test programme. The company claims the powerplant, the first commercial all-Russian engine in three decades, will offer operating costs 14-17% lower than similar available engines.
Several other systems of the MC-21 are being subjected to import substitution initiatives. The Russian government has recently sought alternatives for airborne and terrain collision-avoidance systems.
Formal invitations have also been published seeking development of a radio altimeter, as well as a nose-wheel steering and monitoring system.
The first MC-21-310, aircraft 73055, might be a civil centrepiece for the MAKS show, but the heavy lifting for the MC-21 programme is being done by the other four aircraft – 73051, 73053, 73054 and 73056.
Among the more high-profile tests undertaken by the fleet were spectacular water-ingestion trials using aircraft 73053 at Ulyanovsk in July 2020.
But the initial flight-test airframe, 73051, also drew attention after narrowly escaping damage at Moscow Zhukovsky in January when a mishap during simulated single-engine approaches and emergency braking resulted in the twinjet suffering a runway excursion and coming to rest on snow-covered rough ground.
The aircraft returned to the test programme and was dispatched in March to Arkhangelsk for assessments of natural icing effects in flights over the White Sea.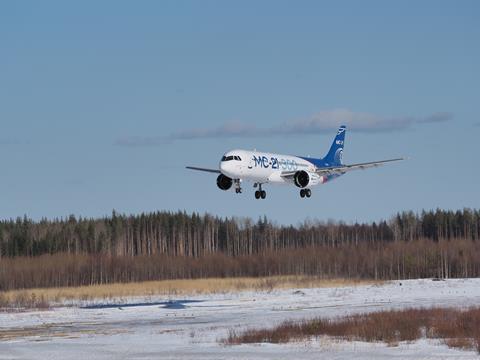 MAKS 2021 will be the second Moscow show outing for the MC-21 after the 2019 event, and its attendance at the Turkish Teknofest a month later.
Irkut claims orders for 175 aircraft, including Aeroflot Group's 50. IrAero, Red Wings and Yakutia are among other operators to have signalled strong interest, alongside lessors including GTLK and Ilyushin Finance.
The flight-test fleet includes cabin-equipped examples of the PW1400G-powered -300, with an all-economy layout on aircraft 73056 equivalent to 211 seats, and a two-class layout on 73054 with 163 seats.
Irkut ambitiously aims to assemble up to 72 aircraft annually once deliveries begin and serial production of the MC-21 ramps up. Along with the -300 and -310 the airframer intends to develop a shrink variant, the -200, with seating for 130-176 passengers.
Rostec has hinted that analysis is also under way for a previously-proposed stretch version, the MC-21-400, but says it will "require a more powerful engine". It indicates that modified PD-14 powerplants – designated the PD-14A and PD-14M – would respectively address the thrust requirements for the -200 and -400.
"Development of the PD-14 has laid the foundation for Russian aviation for the coming decades," it adds.
UAC believes the MC-21 could obtain up to 10% of the new aircraft demand in its sector over the next 20 years. Ultimately the company wants to market the type outside of Russia, and has been working with the European Union Aviation Safety Agency (EASA) with a view to obtaining certification.
This has included inviting EASA pilots to test-fly the MC-21-300 under various conditions, supported by Russian counterparts, to assess its handling across a range of altitudes and speeds, as well as specific aspects including operation at high angles of attack.
Drawing its name from the Russian for 'mainline aircraft of the 21st century', the MC-21 – with its option of an all-Russian powerplant – is the most significant development in post-Soviet civil aerospace. But convincing operators, both Russian and foreign, to break their Western-built single-aisle habit and 'buy domestic' will not be an easy task.