Stuart Locke is general manager for aircraft maintenance at Oriens Aviation, sales and service centre for Pilatus in the UK and Ireland, where he is responsible for growing the business and its customer base
How did you get into aviation?
I have always had a passion for engineering. I was given a great opportunity at the beginning of my career to bring my passion into the aviation industry, where I could really thrive. I am naturally practical, so a vocational career was the perfect fit for me. I started my career with a four-year apprenticeship with Jersey European Airways, which became Flybe, where I gained fantastic experience working on the then Bombardier Dash 8 Q400, Embraer 145 and 190 and BAe 146. I stayed at Flybe for 19 years before joining Farnborough airport, known then as TAG Farnborough, as head of maintenance to manage its Part 145 maintenance activity. I've been general manager of Oriens Maintenance's London Biggin Hill facility for a year.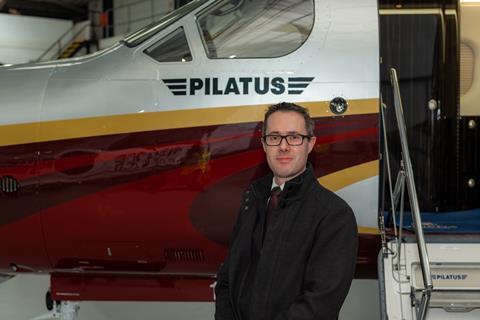 What are your career highlights?
My current position at Oriens Aviation is a real highlight. I love being part of a small team and the people I work with are fantastic. Meeting and working with Edwin Brenninkmeyer, founder and chief executive of Oriens Aviation, has been exciting as he has such a clear vision for the company. It's great to be involved in bringing his vision to life.
Can you describe your current role and responsibilities?
I have now spent a year as general manager for aircraft maintenance at Oriens Aviation at London Biggin Hill airport. I'm responsible for growing our organisation and customer base. I am often found speaking to new and existing customers, assisting with maintenance procedures and looking at how we can make our maintenance capabilities as efficient as possible. As the authorised Pilatus sales and service centre for the UK and Ireland, Oriens Aviation is a fascinating place to work. We provide the full range of services to aircraft operators, including scheduled and unscheduled maintenance, warranty work, aircraft management, pilot training, operations and handling. Our goal at Oriens Aviation is to make Pilatus aircraft ownership easy, so owners can enjoy their aircraft without any hassle.
You took up the post a year ago, what have you and the business achieved in that time?
In the past year, we have grown our customer base by around 300%. We have been focusing on further improving our customer service capabilities and have secured a significant number of new customers from Europe. We have also reduced the average downtime of an aircraft from two to three weeks to one by implementing a "clean and lean" style of maintenance. We ensure clear communication with our customers, use the highest quality and most up-to-date tools and equipment, and adhere to the Pilatus philosophy of "doing things properly".
What do you enjoy most about your job?
It is the people I work with who make my job so enjoyable. My team is committed and enthusiastic and we all motivate each other to serve our customers to the best of our ability. We see such a wide range of aircraft types coming through our doors, which makes the job even more interesting to someone who loves aviation. Apart from the PC-12 NGX and the PC-24, our engineers are authorised to work on a number of other aircraft. I also love diversity of roles within aircraft maintenance. There is the opportunity to engage with customers, work on the shop floor, and be involved with aircraft sales. No day is ever the same.
What are the challenges?
As we have achieved an impressive growth of our customer base over the past year, our next challenge is to maintain this. We need to be able to expand our team fast enough to support our increasing number of customers, which is challenging because of a shortage of licensed engineers in aviation. I hope more young people will be encouraged to pursue careers in engineering and in aviation so that the industry continues to flourish.
What are your plans for the business going forward?
We are always looking to reduce aircraft downtime to a minimum and ensure we are asefficient as possible, so our aim is to carry out more maintenance at one time by having three maintenance lines instead of two. We are also developing a mobile maintenance team to carry out monthly visits to airports and offer an on-the-road maintenance service.
If you would like to feature in Working Week, or you know someone who would, email your pitch to kate.sarsfield@flightglobal.com