IndiGo captain Shivani Kulkarni loves the automation in the Airbus A320's cockpit, but it was flying Antonov An-32s for the Indian air force that made her the pilot she is today.
Kulkarni, speaking with FlightGlobal from Bengaluru, recounts her girlhood in Nagpur, a city with a large military presence. She remembers asking a retired air force officer giving a talk about his career when she was 11 or 12 what it would take to be a military pilot.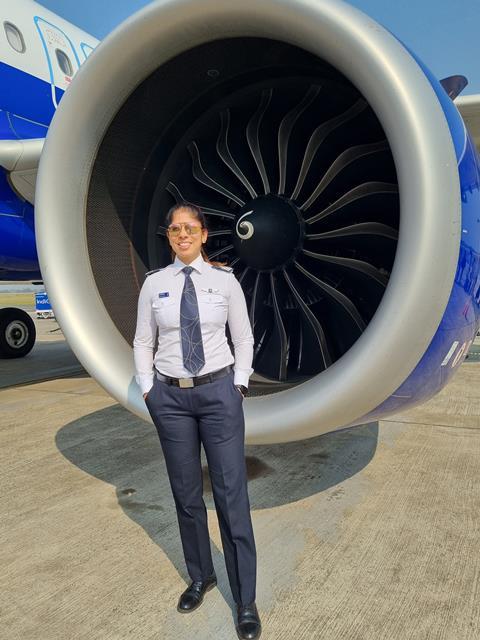 The answer was to focus on maths and physics, deemed essential knowledge for those with a dream of flying.
"I completely oriented myself on this, and I was completely crazy about joining aviation," she says.
Finally, upon finishing university she joined the Indian air force as a cadet.
During training she flew the Hindustan Aeronautics HPT-32 Deepak, as well as the HJT-16 Kiran, an intermediate jet trainer powered by a single Rolls-Royce Viper 11 turbojet. Flying solo in training types afforded the opportunity to perform loops, spins and rolls. Kulkarni feels that performing these manoeuvres solo at a young age was crucial for building her confidence as a pilot.
Following this stage of training pilots can go into fighters, transports or helicopters. Because fighters were closed to women at that time in India, Kulkarni went for transports.
"Of course, I was attracted to planes and that's how I flew An-32s," she says.
She feels that flying the An-32 gave her a tremendous feel for piloting aircraft, as the type lacked modern features such as an automatic throttle and automatic brakes.
"With those two huge turboprop engines, you could just take off and land at any short airfield," she says. "I'm very, very fortunate to have done those kinds of basic things."
FAMILY-FRIENDLY
Between flying An-32s in the air force and joining IndiGo, Kulkarni spent five years flying Embraer Phenom 100 business jets for a local operator. As a single mother with two small daughters, this role gave her more flexibility to spend time at home than if she had gone straight into an airliner cockpit. The Phenom 100 also afforded Kulkarni's first experience with a glass cockpit.
"The Embraer was a beautiful aircraft with a beautiful cockpit, with three big screens," she says.
Moving from the An-32 to a jet was not a huge leap, given her previous experience in the HJT-16.
Eventually, when her daughters were a bit older, Kulkarni joined IndiGo. She says she was attracted to the company's professional way of doing business.
"I was more than happy to get into IndiGo… at the time I joined about seven years back, it was the most disciplined airline and very by the book. They just don't randomly go from here to there."
Indeed, IndiGo is India's top carrier, with over 50% of the country's domestic market. Cirium fleets data indicates that it has a fleet of 292 aircraft, the vast majority of which are A320-family jets. But with 505 orders for A320neo-family jets, it is poised to keep growing.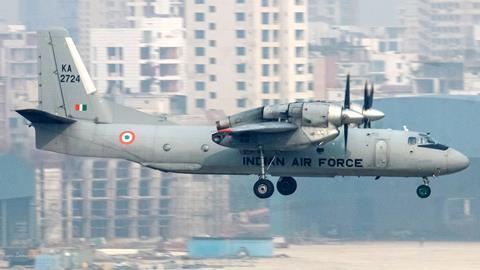 Asked to compare the turboprop-powered An-32 with the modern A320 and A320neo that dominate IndiGo's fleet, Kulkarni says there is a world of difference. Still, as a pilot there are always common threads.
One thing she always reminds younger pilots is that it is critical to keep an eye out of the cockpit. Even if the autopilot is counting down the altitude during a landing, pilots need to look outside and judge things for themselves.
Asked about her favourite airfield in India, Kulkarni says she views them all pretty much equally, and says each take-off and landing presents its own set of challenges.
She recounts a take-off from the northeastern city of Patna. Hemmed in on all sides by houses, Patna airport's apron is cramped and its single runway lacks a parallel taxiway, with only two linkways to the apron. Her A320 was fully loaded, and owing to bad weather at Bengaluru the jet was also carrying extra fuel. To take off into the wind, Kulkarni requested the reciprocal runway to the one that been assigned.
This, however, would require another aircraft to backtrack. The other pilot questioned air traffic control, but ultimately Kulkarni explained the challenges.
"I think it is at the pilot's discretion what the safest and best option is," she says. "I literally had to explain very politely that there were some challenges."
Kulkarni, who had a female co-pilot during that flight, indicates that her request may have been questioned because the pilot in the other aircraft heard a woman's voice over the radio.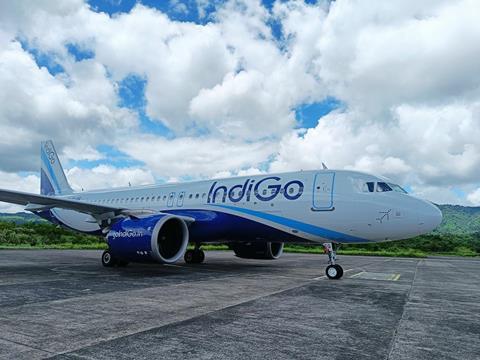 On the advice she gives to aspiring pilots, Kulkarni says that commercial aviation is probably a more "welcoming" environment than the military.
"In India, civil aviation had female captains and first officers even before the defence services," she says.
CAREER CHOICE
She also tells young women that being an airline pilot is a well-respected, well-paid career choice.
"As for a girl's parents, they should know that she is in a safe environment," adds Kulkarni. "There is a very well respected person next to her, everything is monitored, everything is documented, everything is observed."
For young people who are wary about joining the industry given the periodic shocks, such as during the coronavirus pandemic, Kulkarni observes that aviation always comes back, and that India is a fast growing market. People will always return to flying.
And she notes: "The machine doesn't know whether it's a man or a woman flying it. It's your skill and your experience and how passionately you do it."

Greg Waldron is the Asia Managing Editor of FlightGlobal, responsible for the team's airline, aerospace, and defence coverage across the region. He has worked at the company since 2009. In the airline space, Waldron has conducted dozens of interviews with airline leaders in the Asia-Pacific. He also covers areas such as MRO and safety. On the defence beat, Waldron has written extensively about the rise of Chinese airpower, as well as broader airpower developments around the region, such as indigenous fighter programmes, and regional acquisitions of foreign equipment. In addition, Waldron writes about commercial helicopters in the region and business aviation. Waldron worked has a freelance journalist with his work appearing in several business publications.
View full Profile