The lighter side of Flight International
Transport of a tyrant
You can't really call yourself a dictator if you don't have your own personal jet and, as unlikely as it seems, former communist Romanian leader Nicolae Ceausescu's was a British BAC One-Eleven, licence-built in the Warsaw Pact state.
His presidential aircraft – manufactured in 1986 under the Rombac programme – came up for auction in May and, after being purchased by a US citizen, was donated in July to Romania's national aviation museum.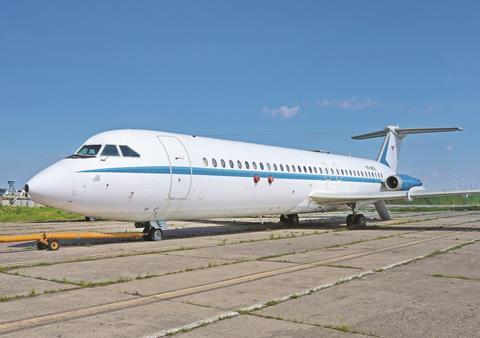 Auction house Artmark says the twinjet (YR-BRE), parked at Bucharest airport, served as the leader's shuttle until 1989. The ministry of culture has classified it as a mobile national heritage treasure.
One of two on offer, alongside YR-BRI, it was sold among other lots including a less extravagant presidential transport – a 1974 Hillman Hunter given to Ceausescu by the Shah of Iran.
Only nine Rombac One-Elevens were built – YR-BRI was the last – but they were still more popular than Ceausescu. After he was arrested and sentenced to death, hundreds are said to have volunteered for his firing squad.
Top that
Emirates' latest TV commercial is not for those lacking a head for heights. The 30s clip shows a close-up of an Emirates cabin crew member holding up various messages on cardboard signs (Love Actually- or Bob Dylan-style, depending on your era) highlighting the easing of travel restrictions to the UAE.
Fairly unremarkable, until the camera pans out and the audience sees that she is actually standing on the needle-like pinnacle of the Burj Khalifa, 828m above ground – behind her an awe-inspiring or stomach-churning panoramic view of Dubai's skyline, depending on your attitude to altitude.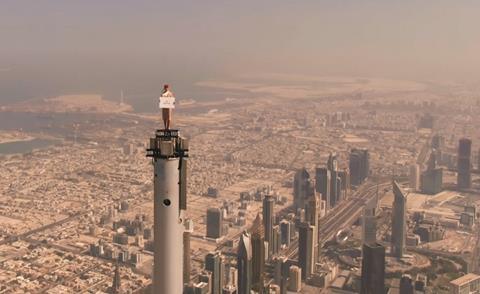 The press release says the cabin crew member's vertigo-defying achievement – filmed without any special effects – puts her among a select few who have perched on top of the world's tallest building, including Tom Cruise and the Crown Prince of Dubai.
But why no namecheck for the brave Emirates employee, surely going very much above the call of duty? The text accompanying a behind-the-scenes video explains:
"A casting call was put out to Emirates' very own cabin crew team and while there were some willing and capable candidates, a professional skydiving instructor was cast to ensure the highest levels of safety."
Happy ending
From the US Federal Aviation Administration's preliminary accident notifications for 4 August: Neither the 15 passengers nor the two crew members on a Transnorthern Aviation Douglas DC-3 were injured when the aircraft suffered an excursion after touchdown in Alaska. And although it "veered off" the runway "into the mud", says the authority, the aircraft escaped with only minor damage. Quite the relief, but you would surely expect nothing less from, er, Goodnews airport.
Nest of luck
Technicians inspecting an Airbus A320, brought in for maintenance after sitting at St Athan airport for almost a year, were surprised to find a pair of kestrel chicks nesting in the APU exhaust system.
The Royal Society for the Prevention of Cruelty to Animals was alerted to the discovery in the hangar of MRO specialist Caerdav. Its inspector, Simon Evans, and engineer Colin Harrison were able to extract the baby kestrels, who had not eaten for several days.
The chicks were named Umit and Lucky after the two men who found them. Lucky is certainly apt. As base maintenance manager Paul Nash explains:
"Umit and Luciano, known as Lucky, put some water in a bowl and some pieces of cooked chicken in another in the hope the chicks would feed. When they checked 15 minutes later, the food and water was gone.
"We were all relieved to see the chicks removed without harm. Normally we would operate the APU before entering the hangar to carry out function checks – this wasn't needed, otherwise the chicks would have met an untimely and scary end."