A late flurry of fighter competition activity as 2021 drew to a close saw the United Arab Emirates (UAE) sign a surprise deal to acquire 80 Dassault Rafales and Lockheed Martin triumph in Finland's 64-aircraft HX process.
Representing Dassault's largest export success to date for the Rafale, the UAE order was announced on 3 December. The French government values the deal at €16 billion ($18 billion), including air-launched weapons worth €2 billion.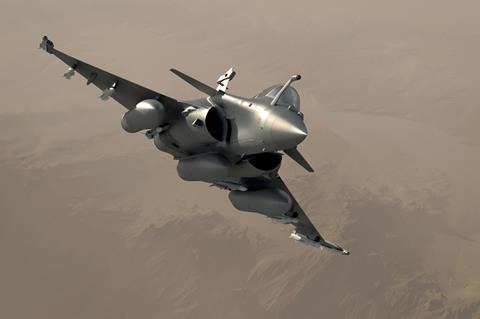 Deliveries are scheduled to run between 2027 and 2031, with the fighters to be supplied in the Rafale's future F4 operating standard.
The Rafale contract – along with an order for 12 Airbus Helicopters H225M heavy-twins – was signed during a visit to the UAE by French President Emmanuel Macron.
In addition to the French military, previous export customers for the Rafale are Egypt (54), Greece (12, including six former-French air force examples), India (36) and Qatar (36).
On 25 November, Croatia also signed a contract to take 12 secondhand examples from Paris. An initial batch of eight aircraft will be transferred in 2024, with the remainder to follow in 2025.
The French company's sale to the UAE was confirmed 12 years after the Gulf state had first seemed close to acquiring the Rafale. Prospects of an order appeared to have ended after the USA in late 2020 approved a potential transaction for 50 F-35As.
US DISCUSSIONS
While momentum around a stealth fighter deal appeared to have stalled ahead of last November's Dubai air show, US officials indicate that a broader $23.4 billion arms deal with the UAE could still be completed, regardless of the recent contract with France.
"With regard to the UAE and the F-35s and the [18 General Atomics Aeronautical Systems MQ-9B] drones, we remain prepared to move forward with both if that is what the Emiratis are interested in doing," US secretary of state Antony Blinken said on 15 December.
Potential barriers to the deal have included Washington's concerns about China's growing influence and presence in the UAE, in particular the country's adoption of a 5G cellular network developed by Huawei.
"We have [also] wanted to make sure, for example, that our commitment to Israel's qualitative military edge is assured, so we wanted to make sure that we could do a full review of any technologies that are sold or transferred to other partners in the region, including the UAE," Blinken says.
Although buoyed by its latest order, Dassault was among rival bidders to miss out in a contest to replace Finland's 62 Boeing F/A-18C/D Hornet fighters, as Helsinki on 10 December selected the F-35A.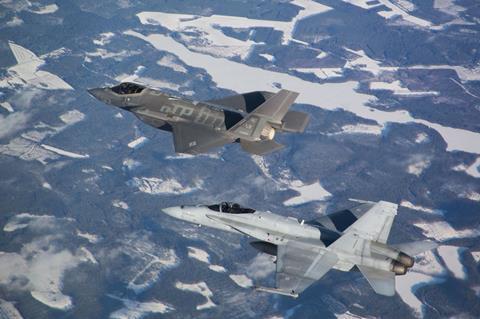 The Finnish air force will receive its Lightning IIs from 2025, in a deal valued at €8.4 billion. Its initial examples of the drag chute-equipped fighter will support pilot training activities in the USA, with aircraft to arrive in Finland from 2026.
"The current Hornet fleet will be decommissioned as planned from 2025 onwards," Helsinki says, with defence minister Antti Kaikkonen noting that the F-35 will "define the Finnish air force's combat capabilities into the 2060s".
KEY ATTRIBUTES
Kaikkonen says the fifth-generation model scored highest of any of the contenders in military capability assessments, and cites its multi-domain capabilities and sensor networking as key attributes. It also came first or shared the top score in all mission areas, and had the highest overall score, significantly ahead of its rivals, Finnish air force officials say.
Additional contenders were the F/A-18E/F Super Hornet and EA-18G Growler electronic attack aircraft, Eurofighter Typhoon and the Saab Gripen E, with Sweden also having offered a pair of Bombardier Global 6000-based Saab GlobalEye surveillance aircraft.
Helsinki adds that during the procurement process "it has been possible to agree on several special security of supply requirements that are crucial from Finland's point of view and significant industrial co-operation, which is especially related to the ability to operate independently in exceptional circumstances".
WEAPONS CHOICE
The USA's F-35 offer included numerous munition types, such as the Lockheed AGM-158 JASSM-ER, Raytheon AIM-9X and Kongsberg Defence & Aerospace Joint Strike Missiles. However, the weapons package will be "refined during the procurement process, taking into account, among other things, the availability of the latest types of weapons and the development of the operating environment".
Finland will pay €4 billion for its F-35As, €755 million for weapons, and €3 billion for equipment, spares and training over the 2025-2030 period. A further €777 million is allocated for infrastructure improvements.
"The F-35 was the cheapest in terms of purchase price, taking into account all the parts included in the bid," says the defence ministry. "The operating and maintenance costs of the system are below the set annual cost limit of €254 million."
"Once again, we notice and regret an American preference prevailing in Europe," says Dassault, which also lost out to the F-35A in a Swiss fighter contest in 2021. "Dassault Aviation and its industrial partners are continuing to develop the Rafale's operational capabilities, in the service of France and of countries that want to have a first-rate air force with full sovereignty," it adds.
Boeing says it is "disappointed" by Finland's decision, but is confident the Super Hornet and Growler will secure additional international orders. A letter of request from Germany covering the possible acquisition of a combined 45 F/A-18E/Fs and EA-18Gs is expected early in 2022.
FUTURE OPPORTUNITIES
Saab "respects Finland's decision, although the outcome is not the one we sought and fought hard for", the company says. "Finland is and will remain an important partner and market for Saab, with existing programmes and future opportunities."
While the defeat in Finland also marked a disappointment for the Eurofighter consortium, it ended the year by delivering its first Typhoons to have been produced with an ECRS Mk0 active electronically scanned array radar.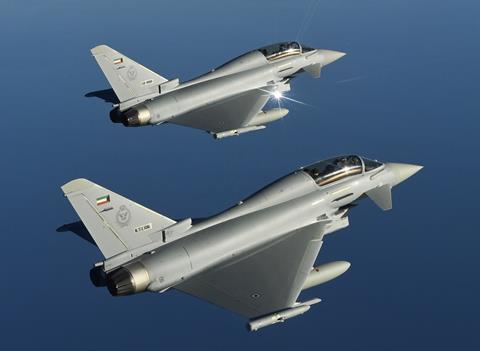 The lead pair – both two-seat examples – were flown from Leonardo's Caselle final assembly plant near Turin, accompanied by two Italian air force Boeing KC-767 tankers and a pair of Eurofighters as escorts. They arrived in the Middle East on 14 December, with another 26 to follow.
"The Eurofighter Typhoons we have developed and produced for the Kuwait air force are the most advanced in the whole history of the European programme," says Leonardo chief executive Alessandro Profumo.