One of the fastest-growing carbon emitters has been forced to grind to a near halt by a global health crisis. Climate campaigners are hoping the aviation industry that re-emerges will be kinder to the planet
With thousands of aircraft grounded by a combination of plummeting demand for air travel and flight bans aimed at minimising the spread of coronavirus between countries, carbon dioxide (CO2) emissions have temporarily, but dramatically, fallen. So as airlines and airports direct their attention to surviving the biggest crisis they have ever faced, environmental campaigners are wondering aloud whether the global chaos caused by the coronavirus pandemic might prove to be a turning point in humanity's willingness to tackle climate change.
Some are forecasting a rapid return to aviation business as usual – but others see the pause in economic activity and the behavioural changes forced on much of the world's population through social distancing measures as providing an historic opportunity to press the reset button and transition to a greener economy once the coronavirus outbreak subsides.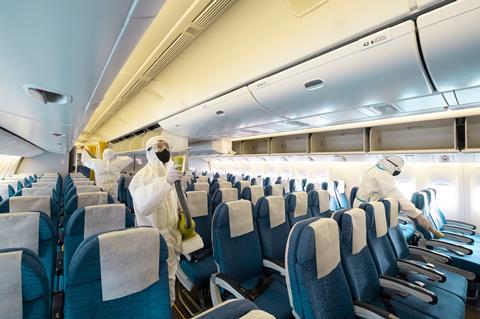 International Energy Agency executive director Fatih Birol wrote in a 14 March blog post: "The coronavirus crisis is already doing significant damage around the world. Rather than compounding the tragedy by allowing it to hinder clean energy transitions, we need to seize the opportunity to help accelerate them."
However, Birol also expressed fears that this opportunity could be missed and the drop in emissions during the pandemic could prove "a short-term blip that could well be followed by a rebound in emissions growth as economic activity ramps back up".
Mindful of this possibility, some environmental campaigners are calling for government bailout packages for the stricken aviation industry to come with sustainability-linked conditions attached. Brussels-based Transport & Environment (T&E), for instance, states that while "financial support must be prioritised for the pay cheques of the thousands of workers in the aviation sector whose jobs are endangered", state aid for airlines "should only be approved if countries ensure they will later start to pay tax". This should include jet fuel tax, it adds, from which airlines are currently exempt.
"Airlines calling for taxpayers' money in bad times should accept they need to start paying taxes in good times. EU governments should make airline bailouts conditional on carriers paying fuel, ticket and other taxes once the crisis has passed," says T&E aviation director Andrew Murphy.
"They should also require airlines to start using low-carbon fuels once conditions improve. Public money should support the technologies of the future to help combat the next looming global crisis – climate change – and not reinforce the mistakes of the past."
The UK-based Aviation Environment Federation (AEF) agrees that "aviation as an industry has long been given special treatment", something it believes should change. "While it is true that airlines will be hard hit by Covid-19, so too will other sectors. It's hard to see why aviation should be given preferential support compared with, for example, hospitality, leisure or retail," states the AEF.
STRINGS ATTACHED
Greenpeace UK executive director John Sauven echoes this sentiment, writing on the environmental group's website that "there will be many high-carbon industries, with easy access to ministers, following the lead of the aviation and oil and gas sectors asking for billions in government support, in addition to the tax breaks they were already receiving". Sauven adds that "bailouts and stimulus funds need to be tied to social benefits", and calls on governments to support "companies that can provide low-carbon solutions".
The EU has signalled that that its post-coronavirus economic recovery plan will be consistent with its climate-change commitments. In a 26 March statement, members of the ­European Council wrote in a joint statement that while "the urgency is presently on fighting the coronavirus pandemic and its immediate consequences", the bloc should "start to prepare the measures necessary to get back to a normal functioning of our societies and economies and to sustainable growth, integrating inter alia the green transition".
The EU looks set to further increase its emissions-reduction goals, which could influence how it helps different sectors with coronavirus recovery efforts. In a 1 April statement, Frans Timmermans, the European Commission's executive vice-president for the European Green Deal, wrote: "The work that the Commission is doing to present by September 2020 an impact assessed plan to raise the EU's 2030 ambitions and cut greenhouse-gas emissions by 50-55% compared to 1990 levels is on track, and the Commission will stick to that."
In addition to the possibility of government bailout packages coming with green strings attached, the aviation industry could find that financing pools begin to dry up as lenders turn their backs on carbon-intensive sectors.
Before the coronavirus crisis unfolded there were already signs that major lenders, under increasing pressure from shareholders, were putting climate change at the top of their agendas and steering loans away from fossil fuel-burning businesses and sectors.
Speaking at the GAD World airports development conference in Dublin in November 2019, Jamie Doyle, managing director of infrastructure finance at UK bank NatWest, said companies that consistently meet their sustainability targets would be prioritised for financing because the bank's parent company, the Royal Bank of Scotland, had put climate change at the top of its agenda.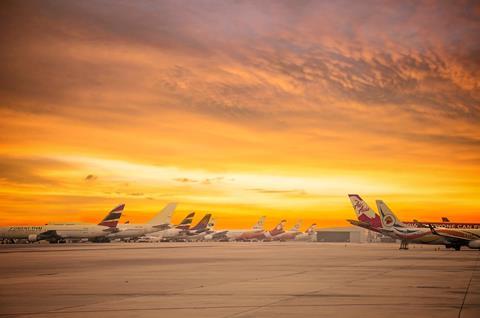 BANKING ON CHANGE
Barclays Bank made a similar statement of its own at the height of the coronavirus crisis. It disclosed on 30 March that its ambition was to become "a net-zero bank by 2050", with a commitment to "align all of its financing activities with the goals and timelines of the Paris Agreement". This alignment will begin with the energy and power sectors, says Barclays, and "will cover all sectors over time".
For its part, the aviation industry has set targets for carbon-neutral growth from 2020 and halving its CO2 emissions by 2050, compared with 2005 levels. "I wouldn't be ­surprised if airlines having a 'net zero' goal becomes a precondition for access to capital and a focus of shareholder activism," says Dan Rutherford, programme director for marine and aviation at the International Council on Clean Transportation.
Perhaps cognisant of what could be coming down the line, some airlines have set individual targets to achieve net-zero carbon emissions by 2050 and/or to use offsetting to enable them to operate carbon-neutral domestic flights this year. British Airways and Iberia parent IAG made this pledge in October 2019 while in the USA, JetBlue Airways said earlier this year that it would operate carbon-neutral domestic flights and begin using sustainable aviation fuel on flights out of San Francisco.
In February, global bank BNP Paribas ­announced that it had closed a sustainability-linked loan with JetBlue by amending an ­existing $550 million senior secured revolving credit facility to include a provision to align the airline's environmental, social and governance (ESG) performance goals.
Meanwhile, in Europe, turboprop manufacturer ATR announced in December that it had delivered "the first-ever green-financed aircraft" to Swedish carrier Braathens Regional Airlines. The transaction involved the first of five ATR 72-600s leased by the carrier from Avation and financed by Deutsche Bank. ESG ratings agency Vigeo Eiris determined that replacing ageing regional jets with new ATR turboprops was in line with the Green Loan Principles established by the Loan Market Association in 2018.
ATR has entered "similar discussions with different airlines interested in investigating the green financing opportunity", ATR vice-president of financing Nicola Checcacci tells Flight International: "ATR began thinking about the possibility of financing deliveries through green financing in 2018. We started to realise that ATR's credentials in terms of reduced environmental impact were a good fit with the growing green finance markets.
"In the regional sector, many jets will simply not be eligible for these initiatives because they cannot match the performance of the ATR. An ATR 72-600 emits around 40% less CO2 than any competing regional jet, which represents an amount of 4,000t of CO2 saved per year per aircraft, when considering 2,000 flights per year. The gap is massive."
Checcacci believes lenders will increasingly move towards similar green transactions when considering aviation financing in future. "Our expectation is that there will be more and more investors and funds willing to invest in these types of transactions and projects," he says. "Certainly, the price gap between the green or sustainable transactions and the rest will increase.
"This may represent an additional incentive for airlines to become more environmentally responsible, but a big push is coming from passengers who need to travel but want the environmental impact of their activity to be minimised."
Environmental awareness had been ­growing among the public before the coronavirus pandemic took hold, with the "flight shame" movement gaining momentum. It is possible that once the immediate coronavirus-related health and economic concerns begin to fade, the changes to people's behaviour ushered in to minimise the disease's spread – in particular working from home and being restricted from travelling – could galvanise the environmental movement.
"Some are predicting in the USA that the public response to coronavirus will empower government generally, improve public trust of scientists – including of the climate variety – and reinstil a sense of collective sacrifice. If these could be directed [towards] climate mitigation, we could see progress on aviation emissions," says Rutherford.
However, he adds that "on the flip side, airlines are under tremendous economic pressures and crude oil prices have collapsed, which will both reduce the ability of airlines to invest in new technologies".
The AEF concludes that it is "hard to predict" to what extent the aviation sector might be affected in the longer term by the behavioural changes enforced on the flying public during the pandemic.
"Some anticipate mass airline closures and bankruptcies, others argue that the industry typically recovers – and resumes its upward CO2 trajectory – faster than expected," says the AEF. "Let's hope that by the time the UK emerges from this horrible crisis we'll have had the opportunity, during the slowdown in global CO2 emissions, to ourselves slow down and think about the kind of future we want, collectively, to rebuild."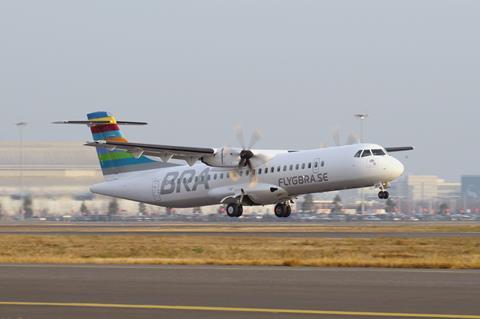 UNCERTAIN FUTURE
Those airlines that manage to remain airborne after the coronavirus storm passes could find it difficult to return to business as usual, with consumers perhaps having less appetite – or less disposable income in the event of a global recession – to fly.
Germany-based Scope Ratings suggested in a recent report that airlines could "emerge from the crisis to find a smaller economy in absolute terms due to the expected severe declines in national GDP worldwide", and surviving carriers would "be under pressure to shrink". The ratings agency predicts that "it will take the airline industry several years to recover from the Covid-19 shock".
IATA does not expect a significant recovery before 2021. Speaking at a 31 March media briefing, the airline trade body's chief economist, Brian Pearce, said: "In past pandemics we have seen this V-shape, with a sharp recovery after about six months. This time it's different, mainly because we've got a deep recession.
"The lockdowns have stopped the world economy to a large extent, there are going to be job losses, there is clearly going to be a fall in [consumer] confidence and that will certainly delay the recovery of the industry."
Pearce adds that "it won't be until 2021 that we would expect a significant recovery", although IATA is also "exploring scenarios where we have a much longer period of weakness, and obviously the pressures on airlines are correspondingly larger".