Business jet manufacturer Gulfstream is investing some $70 million to build a new aircraft maintenance and services facility at Phoenix-Mesa Gateway airport in Arizona.
The Savannah, Georgia-based airframer anticipates opening the new 225,000sq ft (20,900sq m) facility in 2023, expanding the company's aftermarket services reach in the western USA, it says on 9 November.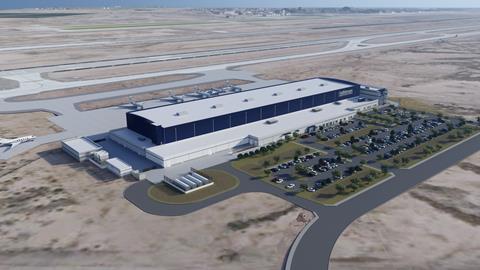 The site will add to Gulfstream's existing services operations in Savannah, Van Nuys (California), Fort Worth (Texas), Palm Beach (Florida), Appleton (Wisconsin) and Farnborough in the UK.
Phoenix-Mesa airport is in the suburb of Mesa, about 30 miles (48km) from Phoenix.
The Mesa site will include hangar space, offices, repair shops and warehouse space. Workers there will service all Gulfstream aircraft, says Gulfstream president Mark Burns.
The news comes about one month after Gulfstream revealed it is developing two new business jets, the large-cabin G400 and ultra-long-range G800.