One day after basketball star Kobe Bryant died in a helicopter accident, the world's largest helicopter association attempted to calm public fears about rotorcraft at an industry conference not far from the crash site.
The Helicopter Association International's (HAI) Heli-Expo trade show took place this year in Anaheim, California, a short drive from Bryant's home in Newport Beach. His Sikorsky S-76B helicopter took off from nearby John Wayne Airport, and crashed about 40nm (75km) north in Calabasas.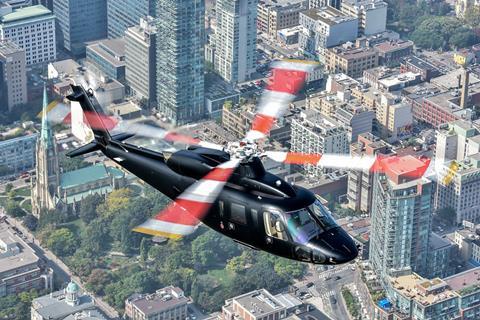 Nine people, including Bryant, were killed when his VIP helicopter went down in a hilly region northwest of Los Angeles on 26 January. The helicopter was flying in thick fog, though investigators have yet to conclude what caused the crash.
Bryant's well-known use of helicopter commuting around Southern California puts HAI in an awkward spot. The trade organisation is trying to usher in greater public acceptance of urban helicopter commuting.
HAI noted its top priorities include the need to maintain access to airports and heliports which are threatened by public complaints about noise and safety fears, especially in New York City, Los Angeles and Hawaii. Maintaining helicopter access and public acceptance could be important in helping to introduce electric vertical take-off and landing aircraft.
HAI president and chief executive officer James Viola, who started his role as head of the trade organisation 10 days before Bryant's crash, on 16 January, was quick to note that his deepest sympathies are with the Bryant family, and to point to the need for continuous pilot safety education.
"The high profile incidents and accident certainly bring more visibility, not in the positive way, for the industry," says Viola. "No loss of life is acceptable. We all agree with that."
While helicopter accidents are not unheard of, the death of Bryant, especially in such proximity, brought the issue of helicopter safety to the forefront of Heli-Expo's exhibitors agenda. It was hard to avoid the issue as freeways surrounding the helicopter conference were flanked with digital billboards projecting "Kobe 4 Ever."
Before Viola spoke in his first press conference as HAI president a moment of silence was observed. S-76B manufacturer Sikorsky issued a statement of condolences. Turboshaft manufacturer Honeywell said it would postpone its helicopter purchase outlook until further notice due to "sensitivities".
Correction and update: The article was corrected to note that HAI president and chief executive officer James Viola, started his role as head of the trade organisation 10 days before Bryant's crash, on 16 January. The article was also updated to note the airport Bryant's helicopter departed from, John Wayne Airport.