Leonardo Helicopters plans to take delivery of the first AW609 simulator at its Philadelphia, Pennsylvania facility in the summer of 2020.
The full flight simulator is to be built by CAE, and is being received ahead of airworthiness certification and first delivery, event dates which Leonardo declines to predict.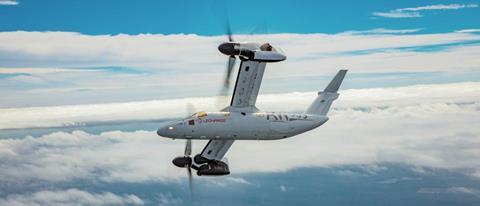 Two aircraft are also in final production at Leonardo Helicopter's Philadelphia production facility. At least one example is planned for completion before the end of 2020.
The company has built four test aircraft and it aims to be heavily testing all of the tiltrotors this year to gain FAA certification as soon as possible. The company flew its production-representative test aircraft for the first time on 23 December 2019.
Offshore helicopter operator ERA, which on 24 January announced a merger with recently restructured Bristow, remains the launch customer of the AW609. Leonardo Helicopters declines to disclose any new customers or detail its backlog of orders.
The company believes the AW609 will likely be initially adopted as a VIP transport for time-pressed executives.
"Typically with new technology, we see early adoption through VIP," says Bill Sunick, head of tiltrotor marketing. "I don't think this will be any different."
The tiltrotor has capacity for nine passengers, in addition to two crew.
The AW609 is also being pitched for the oil and gas, search and rescue, and emergency medical services industries, says Sunick.
Previously, the rotorcraft manufacturer said the AW609 would be certificated and entered into service in 2020. It now declines to provide a timeline for regulatory approval and first delivery.