Airbus Helicopters has delivered two H135 light twin-engined helicopters to NASA.
The initial pair of helicopters will be joined by a third example that is scheduled for delivery early next year, says Airbus on 1 October. Airbus announced its deal to deliver NASA three examples of the H135 in January.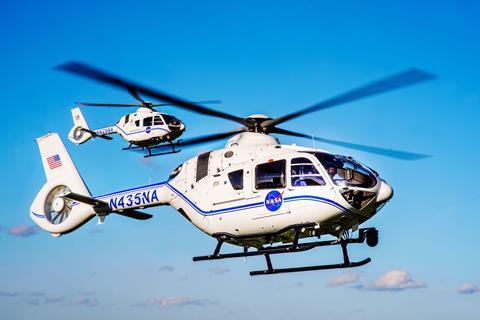 The three helicopters will be based at the Kennedy Space Center in Florida and will be used for aerial security during rocket launches, emergency medical services, research flights and passenger transportation.
"As NASA looked to renew its aging fleet of helicopters, the H135 was selected due to its performance, capabilities and ability to meet our needs as we look to the future of manned space launch," says David Ramsey, chief of flight operations at NASA Kennedy Space Center. "For years to come, these helicopters will not only support security and routine missions at the Kennedy Space Center, but also support our astronauts and crew as they launch important missions to the ISS, the moon and beyond."
Airbus Helicopters manufactured the rotorcraft at its production and completion facility in Columbus, Mississippi. At that location it also builds the H125 single-engined light utility helicopter and the US Army's UH-72 Lakota, a military utility helicopter based on the commercial twin-engined H145.
In August, the US Army announced plans to introduce 17 examples of Airbus Helicopters' in-development UH-72B Lakota, which includes the latest updates of the civilian H145, to its fleet starting in 2021. The UH-72B includes more-powerful engines, a more-efficient Fenestron shrouded tail rotor, enhanced flight controls and the Airbus Helionix avionics suite. The UH-72A has an open tail rotor.