Airbus Helicopters filed a protest with the Government Accountability Office (GAO) against the US Navy (USN) awarding its Advanced Helicopter Training System contract to Leonardo Helicopters.
The company filed its protest on 3 February, about three weeks after the service granted Leonardo the contract, asking the US government agency to review the USN's decision, according to the GAO's website.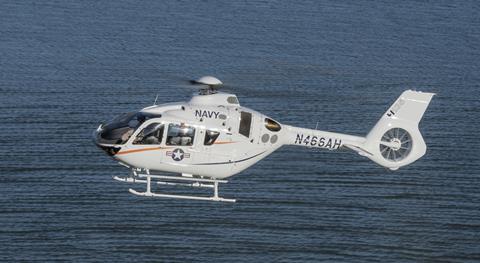 The USN picked Leonardo's light, singled-engined TH-119 for its next trainer helicopter, rebranding the helicopter as the TH-73A.
The service plans to replace its fleet of Bell TH-57B/C Sea Rangers with 130 examples of the TH-73A.
Airbus put forward its twin-engined H135 helicopter and believes a mistake was made in the judging of its aircraft.
"While we respect the Navy's right to choose the asset that best meets its needs, we believe that certain technical aspects of our proposal were not assessed accurately," says Airbus. "We're confident that when these technical misunderstandings have been clarified, the Navy will be reassured that the H135 is not only the best overall value for taxpayers, but also the most suitable aircraft for the mission."
Airbus declines to comment on the specifics of its protest, but says "the H135 irrefutably meets or exceeds every requirement in the [Advanced Helicopter Training System request for proposal]."
Bell was the third bidder in the USN trainer helicopter competition and proposed its light, singe-engined 407GXi helicopter. The Fort Worth, Texas-based company says it "will not protest the Navy's decision at this time."
Leonardo sees no problem with the USN's assessment of the trainer helicopter bids.
"Leonardo believes the US Navy executed a thorough and competitively bid procurement process for its TH-73 helicopter program, selecting the best-value Leonardo TH-119," the company says. "We remain committed to the Navy's vital training mission and program timeline."
US Naval Air Systems Command, which made the decision on the contract, did not immediately respond to a request for comment.
Updated on 6 February: Sentence added with additional comments from Airbus about the specifics of its protest.