Airbus Helicopters is gearing up for the first delivery of its new H160 medium-twin, with the initial example in a VIP configuration currently performing test flights from the manufacturer's Marignane, France base.
To be handed over by its Airbus Corporate Helicopters unit, the ACH160 is destined for a private operator in the New York area, Frederic Lemos, head of the business, told a webinar run as part of the EBACE Connect event on 17 May.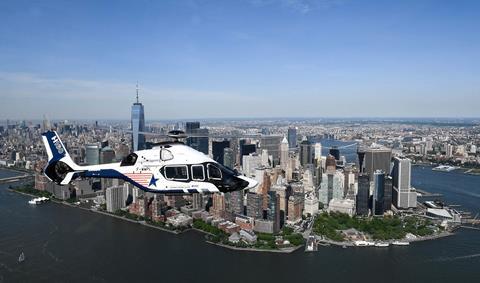 "It has been flying around already in Marseille for final tests," he says. "It is pretty exciting."
However, the delivery hinges on obtaining US Federal Aviation Administration (FAA) approval for the new helicopter, to add to its existing European certification, which was obtained in July last year.
Lemos says that FAA validation will happen "in the coming months", although disruption caused by the Covid-19 pandemic has hindered the process.
"With the FAA it has been even more difficult with travel restrictions to exchange information and progress and make the necessary flight tests," he notes. However, Lemos remains confident the first delivery will happen this year.
In addition, an initial shipment of the ACH160 is also likely by year-end or in early 2022, he says.
Lemos declines to specify how many ACH160s have been sold, but says that it has a "fair share" of the overall orderbook for the type.
The H160 is powered by twin Safran Helicopter Engines Arrano turboshafts.
Lemos additionally reveals that the company has now sold seven examples of its Aston Martin edition of the single-engined ACH130, which was unveiled in early 2020.