European regulators on 12 December approved the Safran Helicopter Engines Aneto-1K turboshaft that will power the Leonardo Helicopters AW189K super-medium twin.
However, Leonardo Helicopters has yet to formally detail any orders for the AW189K and has not provided a service-entry timeline. First flight of the AW189K took place in March 2017.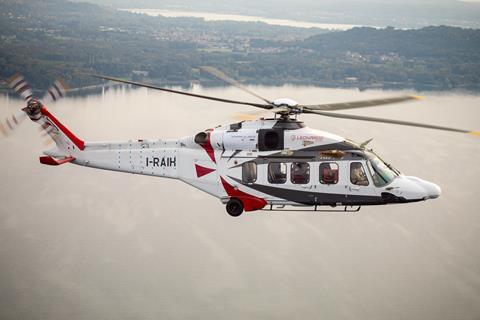 Rated at 2,500shp (1,860kW), the Aneto-1K is the first of the new engine family to be certificated by the European Union Aviation Safety Agency.
However, its type certification data is contained within that of the RTM322-series engines from which it is derived.
Safran envisages the Aneto family as spanning the power range from 2,500-3,000shp.
All AW189s delivered to date have been powered by GE Aviation CT7 engines.
Cirium fleets data lists a total of 46 AW189s on order, although Leonardo Helicopters has previously expressed doubts that many operators would convert existing orders to the new variant.