The Australian Army has leased a pair of Leonardo Helicopters AW139s to support a range of missions, including currency requirements for aircrew.
Mission sets for the two rotorcraft include supporting exercises, training, and emergency medical support, says Australia's Department of Defence.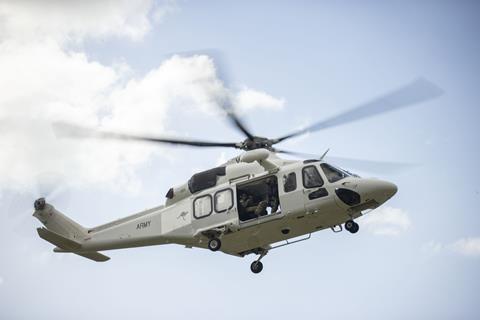 In addition, the AW139's similarity to the army's NH Industries MRH90 Taipan rotorcraft make it suitable for aircrew development and currency requirements.
"The army interim commercial helicopter capability will provide army aircrew with flying proficiency and currency training on an advanced digital aircraft," says Major General Stephen Jobson.
"Maintaining these advanced digital cognitive skills is essential for operating complex modern combat helicopters now and into the future."
The two helicopters are leased from a unit of Toll Helicopters, which specialises in emergency medical services.
The contract runs to 30 June 2023, and has option for two 12-month extensions. Training, maintenance, and logistics support are included in the deal.
The helicopters will serve with the 5th Aviation Regiment, based in Townsville, Queensland.
The MRH90 is the Australian desigantion for the NH90. Cirium fleets data indicates that the Australian Defence Force has 44 examples, with an average age of 8.1 years.