BAE Systems has stretched the range of its Advanced Precision Kill Weapon System (APKWS) rocket by 30% using a new trajectory.
The capability will come as part of an APKWS block upgrade that will be incorporated starting with deliveries in January 2022, the company announced on 3 August.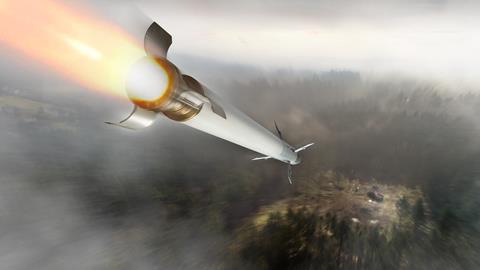 "APKWS block upgrade guidance kits create an optimised flight trajectory that enables the rocket to engage targets at a steeper angle of attack, providing improvements in range and lethality," says BAE. "The optimised attack trajectory improves first-shot success against stationary and moving targets."
The APKWS is based on the Hydra-70 unguided 70mm (2.75in) rocket. It has a distributed-aperture semi-active laser seeker and a self-contained guidance and control system, installed between the warhead and rocket motor. When launched from a helicopter, the guided rocket has a maximum range of 2.7nm (5km) and hits targets 80% of the time within 2m (6.6ft), claims BAE.
The company does not disclose the new range, but 30% beyond the APKWS's current helicopter-launched maximum range would allow it to hit targets about 0.8nm farther, for a reach of 3.5nm.
The lengthened range is intended to help pilots "engage targets from a greater stand-off distance with improved survivability", says BAE.
The APKWS is qualified on several US Navy and US Marine Corps rotorcraft, including the Bell AH-1Z Viper attack helicopter, and Bell UH-1Y Venom and Sikorsky MH-60SR Seahawk utility helicopters. It is also qualified on the US Army's Boeing AH-64E Apache attack helicopter, AH-6M Little Bird light attack helicopter and UH-60M Black Hawk utility helicopter. It can be fired from fixed-wing aircraft also, such as the US Air Force's Lockheed Martin F-16 and Fairchild Republic A-10 Thunderbolt II.
BAE pitches the APKWS as a capability between unguided rockets and anti-armour munitions, such as Lockheed's AGM-114 Hellfire missile. The company says the rocket is a low-cost option for attacking targets such as un-armoured or lightly armoured vehicles.