Boeing has delivered the first four MH-139A Grey Wolf nuclear security and VIP transport helicopters to the US Air Force (USAF).
The Air Force Life Cycle Management Center confirmed the handover on 23 August, noting that the delivery by Boeing came just weeks after the MH-139A received final supplemental type certification from the US Federal Aviation Administration's (FAA's) civil regulators.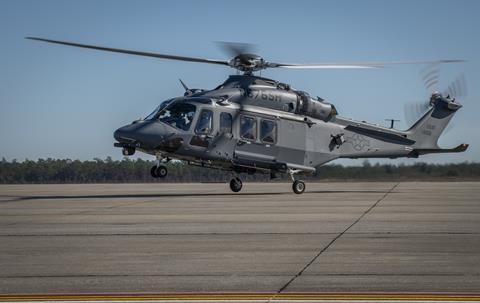 FAA approval was the final milestone needed for the Grey Wolf to receive military flight release from the USAF.
The MH-139A is a modified Leonardo Helicopters AW139 civil airframe. The type will replace the USAF's fleet of Bell UH-1N aircraft, which the service says will represent a significant capability increase in speed, range, endurance, payload, and survivability.
"The Grey Wolf is a modern, versatile aircraft offering greater range, speed and endurance than the UH-1N Huey it replaces," says Mark Cherry, vice president and general manager of Boeing Vertical Lift.
Although the MH-139A is intended to perform a military mission, operating primarily in the airspace over USAF nuclear-capable intercontinental ballistic missile sites in domestic territory, the rotorcraft was required to get a civil airworthiness certification because it is a commercial-derivative airframe. The AW139-based airframe is produced by Leonardo in Philadelphia, then militarised and delivered to the USAF by Boeing.
In June, Cherry told FlightGlobal in June that the airframer was expecting to complete that requirement sometime this summer, but noted that securing civil aviation approval had proven more difficult than expected.
"The certification process has taken longer than we expected," Cherry said during a 16 June briefing at a Boeing facility in St Louis, Missouri.
At the time, Cherry noted that the FAA had no experience evaluating some of the aircraft's military equipment, such as its identification friend-or-foe transponder.
Cherry also says labour and supply chain challenges related to the Covid-19 pandemic contributed to delays. In 2021, the USAF delayed a planned MH-139A purchase due to the lack of FAA certification.
A recent report from the US Government Accountability Office said Boeing has had difficulty integrating new components into the existing airframe, and that early certification testing forced the redesign of several such components.
The USAF says it plans to acquire 80 MH-139A airframes. The first four aircraft just delivered by Boeing will be used for further developmental testing, eventually leading to the start of low-rate initial rate production.
The transition from development to production is known as Milestone C in Department of Defense jargon.
This story was udpated on 29 August to reflect a clarification and further details from Boeing regarding the FAA certification of the MH-139.