Boeing expects an order from the US Army for at least 100 AH-64E Apache attack helicopters in the second quarter of 2022.
The final count of helicopters is still being negotiated, as is the final dollar amount, says Jesse Farrington, director of Boeing's attack helicopter programme. Boeing declines to state the proposed price for the contract.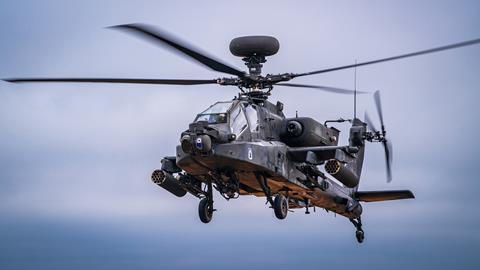 The deal would be the second multi-year contract for the AH-64 programme. The first multi-year deal, a $3.4 billion award for 244 remanufactured Apaches and 24 new-build examples, was signed in 2017.
Multi-year procurement contracts are a special mechanism that Congress permits the Department of Defense to reduce costs for a limited number of programmes that reach full-rate production. Cost savings come from buying goods or services in bulk over several years.
The second multi-year contract for the AH-64E would run four years, through 2026, with an option to order additional helicopters in 2027, says Farrington. While the final number is still being negotiated, the order would likely have a "base" of 100 Apaches and could go higher, he says.
The award would see the remanufacturing and upgrading of AH-64Ds to the AH-64E standard, as well as production of new-build AH-64Es. The attack helicopters would be delivered to the US Army and international customers. Boeing has not specified how many are intended for the US Army and how many would be delivered to foreign militaries.
The "E" model of the AH-64 features the Joint Tactical Information Distribution System radio, providing the ability to control an unmanned air vehicle (typically Textron Systems' RQ-7B Shadow or General Atomics Aeronautical Systems' MQ-1C Gray Eagle).
It also includes more powerful GE Aviation T700-GE-701D turboshaft engines, combined with an upgraded face gear transmission to accommodate the additional power, and a new composite main rotor blade.
The US Army has 682 AH-64Es and 136 AH-64Ds in its inventory, according to Cirium fleets data. There are 1,183 Apaches in service worldwide, across 15 countries, according to Cirium and Boeing.
Since the beginning of 2020, Australia, Egypt, Kuwait,and the Philippines have been approved by the US Department of State to buy a mix of 86 examples of new-build and remanufactured AH-64Es. The US Army also continues to upgrade its "D" variant fleet to the "E" model.