Boeing has finished deliveries of its AH-64E Apache attack helicopter and CH-47F Chinook transport to the Indian air force.
The US manufacturer delivered the final five of 22 Apaches ordered by New Delhi in June, it says. The remaining five of 15 Chinooks ordered by the air force were handed over in March.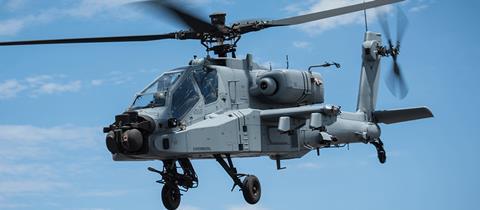 The outstanding AH-64Es were delivered to the Indian air force at Hindan air base, located in the northern state of Uttar Pradesh. The AH-64Es and CH-47Fs were ordered together in 2015.
In February, India agreed to buy six more Apaches for its army, which are to be delivered starting in 2023. The AH-64Es are to have identical capabilities to the attack helicopters delivered to the air force.
Boeing produces the airframe of the AH-64 in Hyderabad via Tata Boeing Aerospace, a joint venture with India's Tata Advanced Systems. Boeing also produces parts for the CH-47 via Indian suppliers. The heavy-lift helicopter's crown and tailcone assembly is made by Tata Advanced Systems and the ramp and aft pylon is made by Dynamatic Technologies.
The company says it has more than 200 suppliers in India. It is likely to deepen its supplier network in the country to win further business as offset agreements are favoured by Indian Prime Minister Narendra Modi's "Make in India" initiative.
With a fast-growing economy and hostile neighbours like China and Pakistan, India has several aircraft acquisition competitions approaching. Boeing is pitching its F-15EX and F/A-18E/F Super Hornet for the Indian air force's requirement for 110 fighters. The company is also offering the F/A-18E/F for the Indian navy's requirement to buy 57 aircraft carrier-based fighters.