Boeing is preparing to reopen its CH-47 Chinook production facility in Ridley Township, Pennsylvania on 20 April after shutting the site about two and a half weeks prior due to risks of coronavirus contagion.
The facility will open with "enhanced safety measures", says Boeing on 17 April. The campus was shut on 3 April amid a growing number of coronavirus cases in nearby Philadelphia.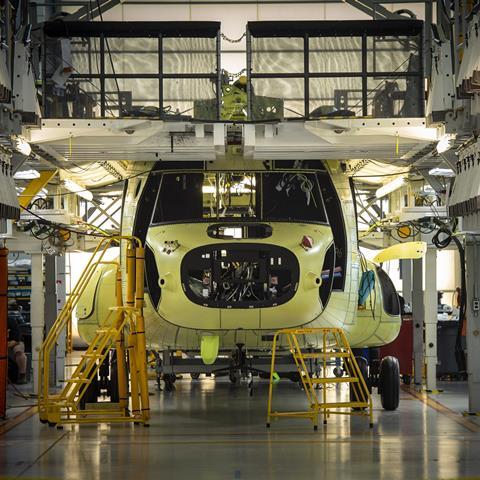 Immediately before the factory was shuttered Boeing delivered to the Royal Netherlands Air Force that country's first CH-47F. The site also builds the fuselage for the Bell Boeing V-22 Osprey.
The facility is exempt from coronavirus quarantine restrictions because production of military aircraft is deemed essential business by the US Department of Defense.
Boeing says it plans to implement a number of safety measures to maintain operations while the coronavirus pandemic rages.
Since the closure, the entire facility has undergone "enhanced cleaning". Hand sanitation stations were added at entry points to the manufacturing site.
"We've posted signage throughout the facility to help keep enhanced hygiene top-of-mind," Boeing says.
The company aims to maintain social distancing between employees by staggering shift times and holding virtual meetings when possible. Boeing employees who do not need to work onsite will telework.
"Work areas have been spaced farther apart with visual markers displayed to encourage physical distancing," says Boeing. "Cafeteria areas will be adjusted to allow for more physical distancing."
All employees will be required to wear face masks or other coverings. The company says it will also provide masks.
Temperature screenings will be required of all employees before they come to work. The company also says it will check temperatures when needed using no-touch thermal scanners at the facility.