The battle for the UK's second-generation search and rescue (UKSAR2G) contract could be down to a straight fight between two of the world's biggest helicopter operators.
Bristow Helicopters and CHC Helicopter have both confirmed that they submitted bids by the 8 October deadline set by the Maritime and Coastguard Agency (MCA).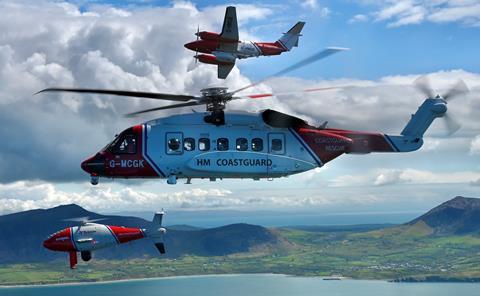 Neither has indicated which lots they have submitted offers for, although the pair were pre-qualified to bid on all four work packages: short- and long-range helicopter SAR operations (lots 1 and 2); fixed-wing pollution monitoring and surveillance (lot 3); and a combined solution (lot 4).
Bristow, the incumbent on the SAR contract, says it is "honoured to submit our proposal for the UKSAR2G contract", while declining to provide further details.
But some aspects of its offer are revealed in recent financial filings, where it says the contract will require "up to 20 mixed fleet of medium/heavy [helicopters]".
The heavy helicopters are almost certainly Sikorsky S-92s, given the lack of viable alternatives, while the medium-twins are probably Leonardo Helicopters AW139s, based on Bristow's fleet categorisation.
Bristow uses a 10-base network to fulfil the current contract, operating 10 S-92s and 11 AW189s, a helicopter it typically classes as a super-medium.
For its part, CHC, which is partnered with Israeli firm Rafael for its bid, says: "Both companies have teamed to create an operationally and financially robust foundation, enabling a solution combining efficient and effective technological excellence with proven SAR expertise.
"The team has the capabilities to deliver today's SAR requirements, as well as the agility to improve and adapt to future demands."
CHC currently runs the SAR service in Ireland, where it operates a fleet of S-92s. It also has built up a substantial fleet of Airbus Helicopters H175s – a direct competitor of the AW189 – although these are used solely for oil and gas transport missions.
Meanwhile, 2Excel Aviation confirms that it has bid for lot 3. It runs the current surveillance contract with a pair of Beechcraft King Airs and two modified Piper PA-31 Navajo aircraft.
"We are not taking anything for granted, but we have a proven track record of service delivery and innovation for the MCA and believe this will stand us in good stead for UKSAR2G," says 2Excel.
"We have created a highly capable, integrated and value-for-money system. In lot 3 we are bidding both crewed and uncrewed aircraft and will be making some exciting announcements in the coming weeks."
Elbit Systems UK, the sole remaining pre-qualified firm, has yet to verify whether it submitted an offer for lot 3.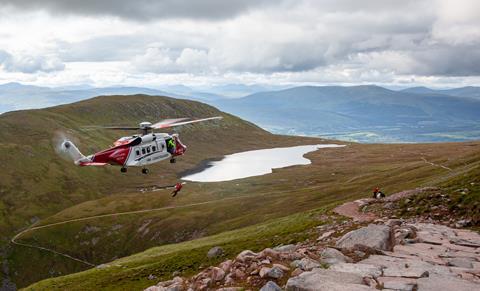 But the list of competitors contains notable absentees. Outsourcing specialist Serco withdrew its interest barely a month after the MCA announced its list of pre-qualified bidders in June, where it was listed against all four lots. And Airbus Helicopters, which was also pre-qualified to bid on all four lots, announced on 8 October that it had opted not to compete, although it did not give any reasons for its decision.
"Airbus Helicopters is very disappointed to conclude that it was not in the best interests of the company to submit an offer", it says.
Speculation had suggested a relationship issue with its UKSAR2G partner Draken Europe was behind the move, although both parties strenuously deny this is the case.
What is puzzling, however, is the MCA's continued silence. It declines to say which operators have submitted bids, "because the procurement process is commercially sensitive".
There also remains the question of whether the remaining bidders can deliver the innovative next-generation service envisaged by the agency when it launched the tender.
"If they had wanted more of the same then why didn't they ask for it?" says one industry insider.
It has also indicated it expects UKSAR2G to be cheaper than the current SAR and fixed-wing surveillance solutions, posing a potential financial challenge for bidders.
Bristow and CHC competed for the £1.3 billion ($1.8 billion) deal – awarded in 2013 – which sought to privatise a service previously provided by the UK Royal Air Force and Royal Navy.
According to the MCA's timeline, it intends to award the UKSAR2G contract(s) in October 2022, leading to a phased service commencement from 2024.