Bristow Group has cancelled its long-held order for 22 Airbus Helicopters H175 super-medium-twins, according to several people with knowledge of the matter, more than halving the airframer's firm order backlog for the type.
Texas-headquartered Bristow recently emerged from Chapter 11 bankruptcy protection and it is understood that the orders were terminated as part of that financial restructuring process. Bristow did not comment on the changes to its orberbook, however.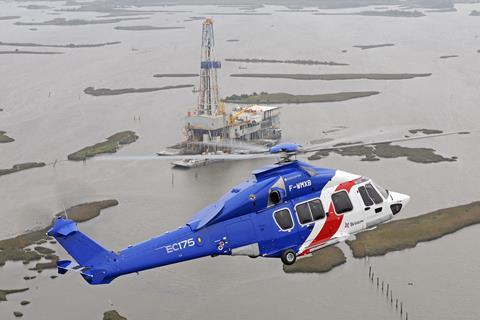 Bristow was one of the first operators from the oil and gas sector to commit to the H175, placing an initial five-unit order in 2013, when the 7.5t-class helicopter was still in its development phase.
That commitment was more than tripled in 2015, increasing its order total to 17; deliveries were due to commence in October 2016. A further five units were added to the backlog in 2017, according to Cirium fleets data.
Although Bristow still lists the 22 H175s on its website, this has not been updated recently. Erasing the Airbus Helicopters type would leave the Leonardo Helicopters AW189 as the operator's only super-medium-class rotorcraft.
Bristow had been seen by many as a likely launch customer for the H175, with Airbus Helicopters having taken an example in the operator's livery on a US demonstration tour in 2013.
However, Belgian firm Noordzee Helikopters Vlaanderen received the initial aircraft in December 2014, rapidly becoming the biggest operator of the type with a 13-strong fleet.
Airbus Helicopters has a firm order backlog of 37 H175s, according to Cirium, although that falls to just 15 aircraft once the Bristow units are removed. A further 87 units are covered by tentative agreements, however.
The airframer declined to comment on customer discussions. It also does not disclose backlog figures or production rates for individual programmes, but says it remains confident in the H175.
In 2018, the most recent period for which figures are available, Airbus Helicopters booked just four orders for the super-medium type.
Sales performance for 2019 will likely not be revealed until later this month, but the only deal disclosed last year was a two-unit commitment from the Chinese Ministry of Transport.
Airbus Helicopters says it has "more than 20 H175s" at different stages of production, with annual output varying between 10 and 15 units depending on market demands.
"The fact that the number of H175s currently flying in the North Sea outnumbers our competitors' platforms is a good proof point of the H175's competitiveness," says the airframer. A total of 27 examples are deployed on oil and gas missions, it notes.
Talks are ongoing with potential customers for both the oil and gas and public services variants, says the airframer.