The Federal Aviation Administration has certificated composite main rotor blades for Erickson's S-64E heavy-lift helicopter.
Certification of composite blades for Sikorsky's CH-54A – on which the S-64E is based – is expected in the coming weeks, and certification of S-64F and CH-54B blades is expected this summer, Erickson says on 3 March.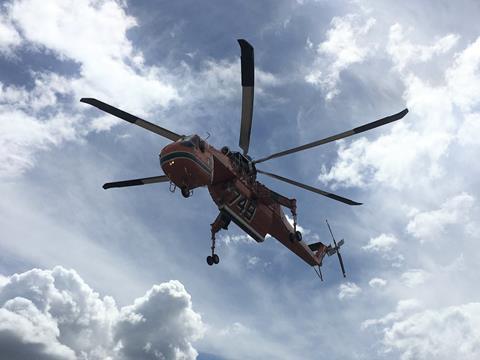 The S-64E flies with aluminum main and tail rotor blades. Replacing a metal main rotor with a composite one is expected to have several benefits, Erickson has said.
"Benefits are expected to include higher lift capacity in almost all flight conditions, including a greater than 1,350kg (3,000lb) lift increase at hot and high conditions, a 33% lower manufacturing cost, 75% lower maintenance costs and 3% lower fuel consumption," the company said in 2017.
Erickson started designing and developing the composite main rotor in 2008. It opened a manufacturing facility for the blade in 2015 and first flew the S-64 with the composite rotor in 2016.
However, progress on development was interrupted in 2017 when Erickson declared bankruptcy. A formerly publicly traded company, the helicopter manufacturer was restructured that year into a smaller private entity.
The S-64 is a civil helicopter based on the 1960s-era Sikorsky CH-54A Tarhe twin-engined, heavy-lift helicopter, which was built for the US Army. Erickson purchased the intellectual property behind the derivative S-64 from Sikorsky in 1992.
The S-64 has its cabin carved out to make room for larger sling loads. It has maximum lifting capacity of 11,300kg.
The S-64 and the older CH-54 are frequently used for aerial firefighting, transmission line tower construction, timber harvesting, building construction and oil and gas work.
Erickson remanufactures CH-54s and S-64s, and builds a small number of S-64s from scratch. The company operates a fleet of S-64s as a commercial service as well.
The composite main rotor blade is part of a forthcoming S-64+ upgrade kit Erickson plans to offer at an undetermined date. That upgrade package is to eventually include Sikorsky's Matrix autonomous flight control software and an improved water cannon.