The first Sikorsky CH-53K King Stallion simulator has been delivered to the US Marine Corps (USMC) at MCAS New River in Jacksonville, North Carolina.
The service took delivery of the training device for the forthcoming heavy-lift helicopter on 14 April, it said on 1 May.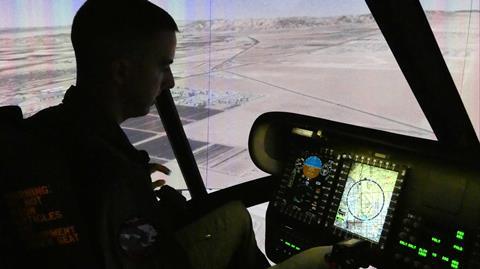 The Containerized Flight Training Device (CFTD) is built by Sikorsky's parent company, Lockheed Martin, in partnership with Veraxx, an engineering services company.
The CFTD has a simulated cockpit and system displays. It is capable of simulating weather and tactical military situations. The training device can also be connected to other simulators for enhanced attitude control and other aircraft training scenarios, says the US Naval Air Systems Command (NAVAIR).
NAVAIR plans to place all of the CH-53K's training devices at New River, where it will train all of the King Stallion's aircrew and maintenance personnel. It also expects delivery of the type's Helicopter Emulation Maintenance Trainer and Composite Maintenance Trainer this year.
The CH-53K is several years behind schedule, due to a number of design and assembly problems, including issues with its gearbox and exhaust re-ingestion.
The US Navy is pushing to complete development tests, leading to initial operational test and evaluation in 2021. The service wants first fleet deployment of the aircraft by 2023 or 2024.