France has carried out the first in-flight refuelling of an Airbus Helicopters H225M Caracal using its Airbus Defence & Space A400M.
Announced on 19 August but performed the previous month, the trial saw the heavy-twin helicopter receive the fuel on 22 July, says France's DGA defence procurement body.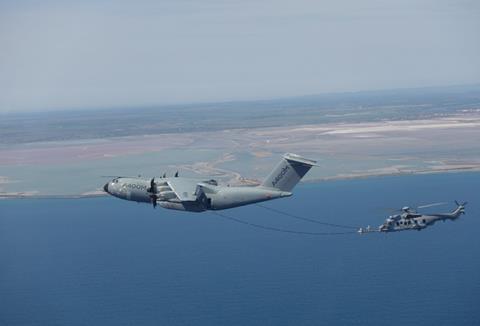 While a test campaign last year carried out a series of 'dry' contacts, this was the first time that fuel passed between the two aircraft.
Flight envelope performance was also studied in the latest round of evaluations, which ran from 20-31 July.
Qualification of the helicopter refuelling capability on the A400M is anticipated next year, ahead of its final operating configuration clearance in 2022.
Although the Atlas is capable of refuelling fixed-wing aircraft such as the Dassault Rafale and Lockheed Martin C-130, the French air force has struggled to adapt the airlifter to perform the same mission for rotorcraft.
Those issues led to Paris acquiring a pair of KC-130J tankers as a stop-gap measure, with the US-built assets arriving in 2019 and 2020.