Swiss helicopter developer Kopter, which was acquired by Leonardo earlier this year, is looking for a new chief executive after the surprise departure of Andreas Lowenstein.
Leonardo confirms that Lowenstein has stepped down to "pursue further opportunities" outside of the company.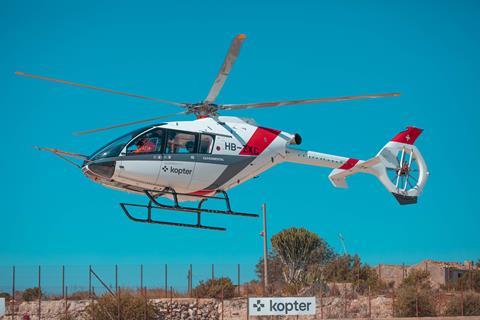 Lowenstein will be succeeded in the interim by Leonardo executive Marco Viola while a permanent successor is sought. Viola is currently leading the Kopter integration process.
"In order to guarantee a swift and seamless transition, Leonardo will ensure the continuity of all activities and operations as well as of the integration progress, Kopter being a key part of Leonardo's future success in the helicopter sector," says the Italian airframer.
Lowenstein, a former executive at what was then Eurocopter, joined Kopter in 2017 and is widely credited with bringing stability to the company and managing the severing of ties with its founder Martin Stucki.
In addition, Lowenstein helped guide through a rebrand that saw the company ditch its previous Marenco Swisshelicopter identity.
Leonardo bought Kopter in April 2020 for an initial $185 million and has been bringing the business into its operation. It also intends to make it a centre of excellence for light helicopters.
This has seen a delay to the service entry of the in-development SH09 light-single, plus the likely relocation of the helicopter's final assembly line from Mollis, Switzerland, to Leonardo's main plant in Vergiate near Milan.