Russian Helicopters appears to have a first customer lined up for the new A3 variant of its long-running Mil Mi-171 heavy-class rotorcraft after oil giant Gazprom signed up to the programme, although details of the agreement remain limited.
Revealed at the MAKS air show, the "strategic agreement" commits Gazprom to acquire an unspecified number of the 13t helicopters "in accordance with its current needs", while Russian Helicopters will complete testing and certification of the updated platform, begin serial production, and provide training and logistical support.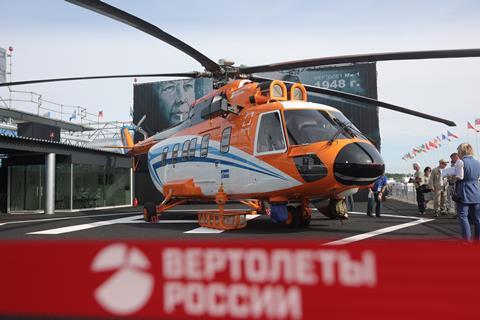 Designed for offshore transportation or search and rescue operations, the A3 will be the first Mi-171 variant that complies with regulations for crew-change helicopters set by the International Association of Oil and Gas Producers (OGP).
Russian Helicopters unveiled the development of the latest model in late 2020, and intends to perform a maiden sortie later this year with the prototype that was on display at MAKS; certification is scheduled for late 2022 or early 2023.
The Mi-171A3 features reshaped air intakes and a new fuselage with a nose section derived from that of the larger Mi-38 but with larger and fewer glass panels.
In addition, the new fuselage is taller to accommodate larger crash-resistant fuel tanks in the belly, pushing range to 540nm (1,000km), a 108nm increase over the Mi-171A2. Seating capacity grows to 24 – a rise of four passengers – while the landing-gear has been modified to keep the helicopter level, rather than the tail-down attitude of earlier versions.
Initial versions will be powered by twin 2,000shp (1,490kW)-rated Klimov VK-2500-02 turboshafts, although these will later be replaced by more powerful VK-2500Ms, which gain an additional 500shp at take-off.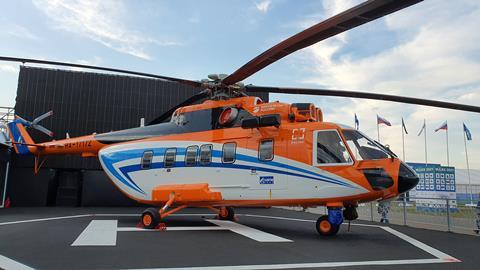 It also features modernised avionics, which have been upgraded for offshore operations and flights in the Arctic. Widespread use of composite materials has cut airframe weight over the A2 variant.
Russian Helicopters says the Mi-171A3 will be available in two configurations: a utility transport or a search and rescue platform.
"If necessary, the operator will be able to independently convert the cargo-passenger helicopter into a search and rescue helicopter."
Alongside Gazprom, another likely customer for the A3 is fellow Russian oil and gas producer Rosneft.
Rosneft, through its RN-Aircraft subsidiary, already operates a fleet of 10 Leonardo Helicopters AW189 super-medium-twins, with a further 22 examples on order, Cirium fleets data records.
Under the terms of a framework agreement signed in 2014, RN-Aircraft was to take up to 160 examples of the 8.6t helicopter, with the bulk built at HeliVert – a joint venture between Leonardo and Russian Helicopters in Tomilino near Moscow. However, all the examples delivered to date have been assembled in Italy.
Additional reporting by Dominic Perry in London.