Leonardo Helicopters has delivered the first of at least 17 AW169M helicopters to the Italian army as the service begins the replacement of several legacy types.
Presented at the army's Lamezia Terme base in southern Italy, an initial pair of UH-169Bs will serve as basic trainers ahead of the arrival of 15 AW169 Light Utility Helicopters (LUH) in the coming years.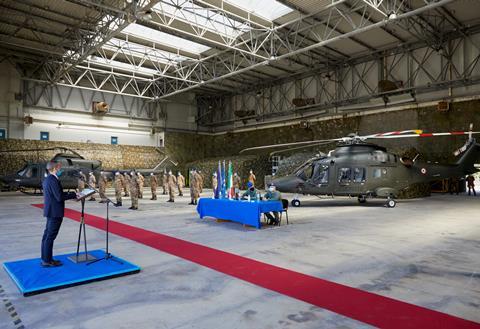 Under plans approved in November 2019, the programme is to replace ageing helicopters in the army and Carabinieri fleets, including the Agusta A109 and Agusta-Bell AB205, AB212 and AB412 – locally produced examples of the US-designed aircraft.
Those legacy types are faced with "growing levels of obsolescence" according to Italian procurement documents, do not allow training to operate "new-generation helicopters" and will require extensive avionics upgrades.
Leonardo Helicopters says the LUH design will "leverage" the AW169M, but will feature skids rather than wheeled landing gear.
In addition, the "advanced multirole configuration" will be equipped with "an advanced… command, control and communication system to grant full interoperability with the other assets in the NATO environment".
Italy's requirements include an aircraft capable of being used over the next 30 years – or 10,000h – and operating in all conditions at an alternate gross weight of 5.1t; civil AW169s are certificated at a maxium take-off weight of 4.8t.
While orders for the UH-169Bs – described as "basic commercial trainers" – are confirmed, Rome has yet to formally commit to the LUHs, so far having only indicated its "intention to purchase" the 15 rotorcraft. Documents from the Italian Senate refer to a total of 22 helicopters, making it likely that five examples are destined for the Carabinieri.
Sustainment synergies should also be possible with other government operators in Italy who are also taking the medium-twin: last November the Guardia di Finanza agency received its first of 22 AW169Ms from a 2018 contract.