Leonardo Helicopters is turning to technology to enable customer shipments despite the travel restrictions imposed by the coronavirus crisis which have caused a build-up of completed but undelivered aircraft at its production sites.
The Italian company's helicopter division was one of the parts of the business most acutely affected by the Covid-19 pandemic during the first quarter: civil deliveries slumped to 11 units, down on the 19 shipments it made in the same period a year earlier.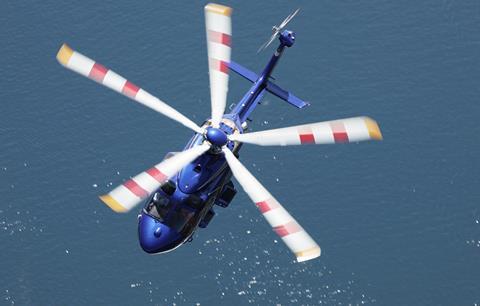 Although output has largely been maintained at pre-coronavirus levels, clients have been unable or unwilling to travel to northern Italy to collect the assembled helicopters.
But speaking on a first-quarter earnings call on 7 May, Alessandra Genco, group chief financial officer, said the division was considering new solutions to clear the log-jam of undelivered aircraft, which are largely AW139 intermediate-twins.
"In helicopters we are getting ready to do 'smart deliveries' – using the digital set-up to transfer to customers all the data relating to the final testing we have done on their machines," she says.
"This will make them comfortable that the machine is in good shape, as if their own pilots had tested it, and therefore on that basis take delivery of the aircraft." A similar scheme is already in operation by Airbus at its commercial aviation unit.
However, although progress is being made on the initiative, she cautions not to expect any "significant speed up" of deliveries until June at the earliest.
Revenues at the division slumped year on year by 13.4%, to €704 million ($761 million), contributing to a 68% plunge in EBITA, to €18 million.
Nonetheless, Leonardo Helicopters added €1.48 billion to its backlog during the quarter, largely driven by the defence sector. This included 32 TH-119s for the US Navy, following the January selection of the light-single as the service's new trainer, designated the TH-73A.
Leonardo has a significant presence in northern Italy, which has been the part of the country worst affected by the coronavirus outbreak.
Despite this, the group has not furloughed any of its around 31,000 staff in the country, says chief executive Alessandro Profumo. At the end of April, 40% of its employees were on site, 43% were working remotely and the remaining 17% were absent, he says.