Leasing firm LCI has agreed to acquire up to six Airbus Helicopters H175s, with the first to be delivered towards the end of next year.
The agreement covers two firm helicopters plus four options, and increases the lessor's commitment to the type.
LCI values the deal at over $125 million.
The company is part of the aviation division of Libra Group which has diverse interests including energy, hospitality, real estate and maritime activity.
LCI chief Jaspal Jandu describes the super-medium H175 as a "versatile, multi-purpose" helicopter.
"This order will help to maintain the breadth of LCI's product offering," he says, adding that it demonstrates the company's confidence in the helicopter leasing market.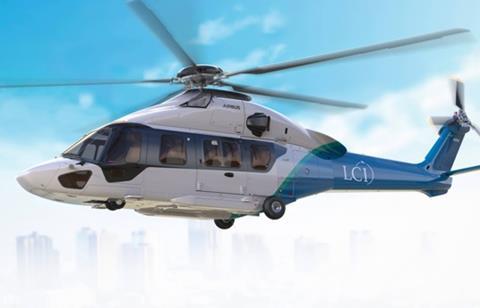 The lessor has a portfolio which includes Airbus A330s, and it has a backlog of 20 A220s – including both variants – on Airbus's books.
Its rotorcraft complement also includes Leonardo and Sikorsky models. The company's customer base includes 14 operators in 10 countries.
"[LCI's] renewed commitment to the H175 demonstrates the strength of the marketplace and its post-pandemic recovery," says Airbus Helicopters chief Bruno Even.