The Malaysian army is finally on the verge of receiving six MD530G scout attack helicopters, bringing to an end a long journey to take delivery of the rotorcraft.
The Malaysian defence ministry has made its "initial acceptance" of the six helicopters via its agent, Malaysian firm Halaman Optima/Destini Prima, says MD Helicopters.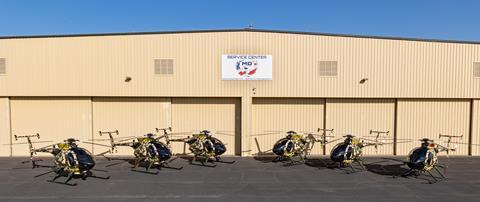 The helicopters are in transit to Malaysia, and should arrive by the end of the first quarter. In addition, eight pilots and nine mechanics from the Malaysian army's 881st regiment have completed forward arming and refuelling operations in West Texas.
"We are very pleased to accept the delivery of this outstanding aircraft at MD Helicopters on behalf of the Malaysian Ministry of Defence," says Ek Sing Nguong, senior vice-president of Destini Prima.
"It is with great excitement that we are able to take this programme to the next stage. We look forward to the equipment's arrival in Kuala Lumpur to complete the in-country final acceptance training."
Malaysia's MD530Gs see the integration of the Wescam L3 MX10D sensor, and Tek Fusion's Pathfinder Areas Weapons Management System.
"These integrated systems are used to support the Dillion M134 mini gun, FN Herstal heavy machine gun and rocket machine gun pods, and 2.75-inch folding-fin aerial rockets (guided and unguided)," says MD Helicopters.
"The aircraft provides overwhelming close-in support night or day, as well as outstanding reconnaissance capability."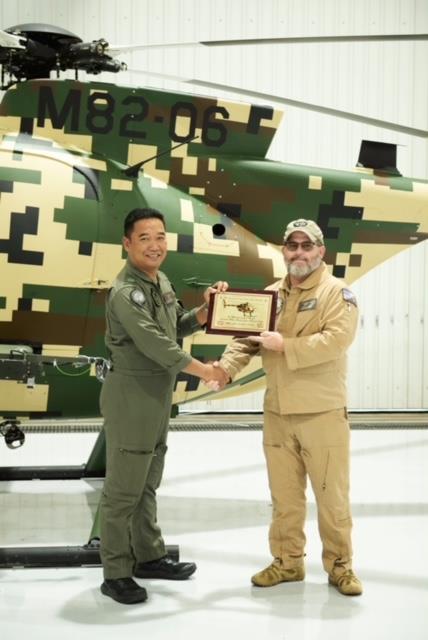 The delivery of the aircraft – and, indeed, whether they would be delivered at all – has been a source of speculation for several years since the type won an attack helicopter requirement in February 2016.
At that time, deliveries were planned for March 2017. The contract value given was MYR322 million ($77.4 million).
In December 2019, MD Helicopters said that deliveries had been delayed at the behest of the Malaysian prime contractor, Destini Group. In 2017, Destini had acquired a 70% stake in Halaman Optima, the original prime.
It added that deliveries were to take place in the first quarter of 2020. It is not clear why the rotorcraft's delivery was delayed by over two years, but the coronavirus pandemic and political upheaval in Malaysia likely had an impact.