The Philippines has signed an order for 32 additional Sikorsky S-70i Black Hawk utility helicopters from its PZL Mielec unit in Poland.
Philippine defence secretary Delfin Lorenzana and PZL Mielec president Janusz Zakrecki signed the contract on 22 February in Manila, says Lockheed, Sikorsky's parent company.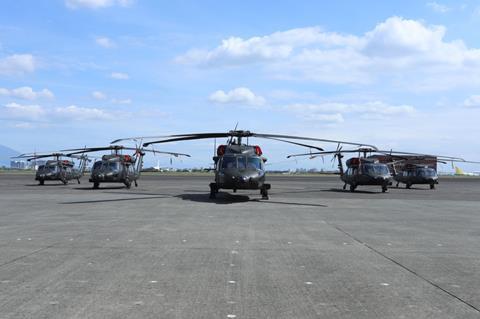 The rotorcraft will be delivered by 2026. All will be in a utility configuration with a digital cockpit, troop seats, and a cargo hook capable of lifting 4,080kg (9,000lb), says Lockheed.
Crew training will take place in both the USA and the Philippines.
The deal marks the single largest Black Hawk order for PZL Mielec since it started producing the type in 2009.
The formal signing follows a previous contract signing in December 2021, which Lorenzana posted about on Facebook. His post gave the value of the deal as Ps32 billion ($624 million).
In that post, he said that five helicopters will be delivered in 2023, 10 in 2024, 10 in 2025, and seven in 2026.
"In the aftermath of Typhoon Odette (Rai), the Philippine air force has shown the world how its recently acquired Sikorsky S-70i Black Hawk fleet, designed and built to the toughest military standards, can quickly and reliably deliver emergency personnel and supplies to island populations across a large maritime area," says Jason Lambert, vice-president for Sikorsky Global Commercial & Military Systems.
The Philippine air force operates 15 S-70is, the last of which was delivered at the end of 2021. The fleet originally numbered 16 examples, but one was lost in a crash.