India's Cabinet Committee on Security (CCS) has approved the purchase of 24 Sikorsky MH-60R helicopters for its navy at an estimated cost of US$2.6 Billion.
A green light from the CCS is the final step before the inking of a formal contract under India's procurement process.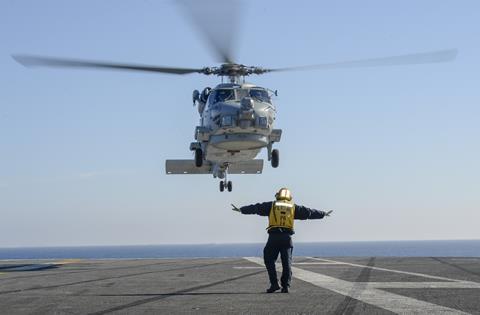 Deliveries are expected within five years of contract signature. Media reports suggest the deal could be consummated during a visit to India by US president Donald Trump from 24 to 25 February.
The MH-60R will be acquired via the Foreign Military Sale (FMS) route and provide anti-submarine and anti-surface warfare capabilities, which has also contracted for weapons such as AGM-114 Hellfire, Advanced Precision Kill Weapon System, Mk54 torpedoes, and two types of crew served guns.
Also likely to be acquired under a separate contract with Norway's Kongsberg will be the Naval Strike Missile.
An additional MH-60B/R from the USA's Excess Defense Articles scheme is also being acquired for training purposes.
The process to acquire a modern anti-submarine warfare helicopter has been underway since 2005, with Sikorsky's S-70B Seahawk emerging as the winner in 2014 before negotiations floundered over cost.
Also being pursued are two other naval helicopter requirements: the 111-unit Naval Utility Helicopter programme and 123-aircraft Naval Multi Role Helicopter effort.
The Indian navy suffers a debilitating shortage of modern helicopters across all types, with a stated shortfall of 61 integral shipborne helicopters for its warships.
A fleet of Westland Sea King Mk42B/C and Kamov Ka-28 helicopters provide surveillance and stand-off targeting capability against enemy ships and submarines. Inducted between 1986-1989, orders were placed for 20 Sea King Mk42Bs and 10 Mk42Cs. Only a handful are now thought to be operational.
Its Ka-28 fleet is being upgraded under a $294 million contract signed in July 2016 which scheduled for completion by July 2021. Also to be procured are 10 more Ka-31 airborne early warning helicopters, adding to the existing fleet of 14.
The backbone of naval aviation remains the obsolete Hindustan Aeronautics (HAL) Chetak - a licence-built Aerospatiale Alouette III, first delivered in February 1966. There are 51 in service and eight new-build helicopters were ordered in August 2017. The first example from this order was delivered in July 2019 and deliveries will conclude this year.
In addition,16 Dhruv helicopters on order from HAL are also due for delivery between March 2020 to September 2021.