Norway has kicked off a market survey of helicopter operators as it contemplates the lease of rotorcraft to backfill for a lack of NH Industries NH90 capacity on coastguard operations.
If Oslo proceeds with the strategy it could result in the unusual situation of a civil operator flying military helicopters from coastguard patrol vessels on missions such as fisheries protection and search and rescue in the Arctic north.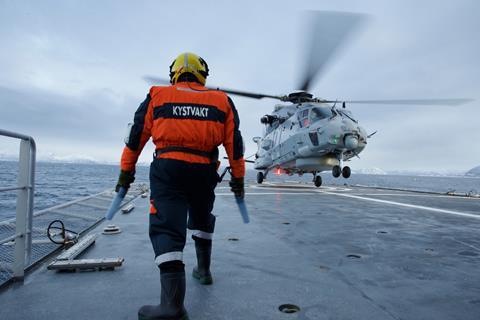 A request for information (RFI) released by the Norwegian Defence Materiel Agency (NDMA) details the operational and size constraints that the rotorcraft would face, alongside mission types and availability requirements.
Proposed helicopters should be capable of operating from the Norwegian coastguard's Svalbard- and Jan Mayen-class vessels and would perform fisheries protection, border monitoring, and search and rescue missions at distances of up to 150nm (277km) from the ship.
The aircraft should be capable of performing up to 5h of flight time in any 24h period, and each embarked helicopter would typically operate one trip per day, or five to six flights per week, for a minimum total of 1,800h annually. Up to three out of four vessels could be deployed simultaneously, it says.
"In all cases aircraft ownership, manning, engineering and logistics support would be the entire responsibility of the provider," the RFI states.
"It should be noted that nationality requirements for embarked personnel have yet to be determined," it adds.
But crucially the RFI stops short of specifying whether the helicopter should be a civil or military platform. Some – for example the Sikorsky S-92 – are available in both guises, but a limiting factor is the size of the ships' hangars, which are designed to accommodate the NH90. They are accessed by a 7m (23ft)-wide and 5.1m-high door and are 18m long, the RFI states.
Other considerations may also rule out some commercial helicopters, including the high angles of pitch and roll of the vessel experienced during high sea states and the degree to which the helicopter has been designed for extended maritime operations.
It adds: "Legacy operations in the Norwegian and Barents Sea have shown that a hydraulic actuated deck lock device fitted to the aircraft would be an essential element of any operationally suitable solution."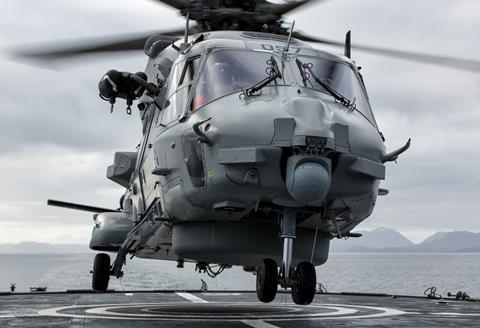 Norway stresses that it has not yet determined whether it will pursue the lease option and the RFI is designed simply to allow it to better assess market interest. As such, no decision has been taken on funding, operational requirements, or timeline for the start of any service, the NDMA says.
"Partially based on RFI answers and the formal engagement sessions with potential suppliers, NDMA will choose a conceptual solution before proceeding to the project tender phase," it adds.
In 2019 the Norwegian parliament asked the government to consider other options should its 14-strong fleet of NH90 NFHs fail to meet availability targets that would allow it to cover the needs of both the navy and coastguard.
Norway's original acquisition planned for eight NH90s to be employed on coastguard missions, while a further six examples would be used for anti-submarine warfare and naval support operations.
But a "slower than expected" build-up of that capability, a sluggish delivery pace due to the coronavirus pandemic, plus low availability rates, led Oslo in March this year to conclude that the NH90 could not perform both tasks.
The defence ministry said that following a review of alternatives it had concluded that there were other helicopters that could satisfy its requirements and "part of this need should be met with the hiring of helicopter capacity".
Oslo said it would seek "a lease arrangement" for additional rotorcraft as a "supplement to the NH90" for missions that do not "require an equally specialised and complex platform".
Responses to the RFI are due by 9 January.